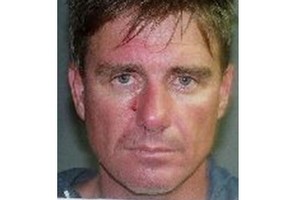 A man convicted of trying to murder his wife has managed to evade police for a over a week and is still on the run after he escaped from prison.
There has only been one potential sighting of Lex Miller, 48, since he escaped from Rangipo-Tongariro Prison near Turangi last week.
The man on the run is dangerous, said Bay of Plenty district crime manager Detective Tim Anderson.
"In 2008 he was convicted for seven years and eight months for the kidnapping and attempted murder of his ex-wife. This was a premeditated crime which had been carefully planned in the days leading up to the incident.''
He said Miller had travelled back from Australia and spent two days planning and preparing the murder.
On March 4, Mr Miller kidnapped and bound his ex-wife after hiding in her car while she was at work.
He bound her hands and feet with wrapping tape, and then attempted to gas her he said.
"Remarkably, the victim was able to free her hands using a pair of nail scissors while Miller was out of the car, and then managed to get into the driver's seat and drive the car through a gate to seek help.
"This was a serious crime and it was treated as such by the courts. It is a concern to us and his victim's family that Miller has escaped custody.''
Detective Inspector Anderson said Miller had extended family in the eastern Bay of Plenty area, particularly around Whakatane, and he may have travelled to this area. But he said Miller could be anywhere.
"At this stage we do not have any reason to believe anyone is helping Miller, but we do not believe that he has access to any money. He has now been gone for a week so someone, somewhere must have seen him or his car knowingly or unknowingly and we urgently want to hear from you.''
Miller has been described by police as having sandy brown, shorter hair. He's approximately 173cm tall, and was last seen wearing a tan-coloured shirt, blue jeans and white sport shoes.
He drove off from the prison in a 1994 Silver Toyota Camry Sedan with the registration TC7281.
- APNZ