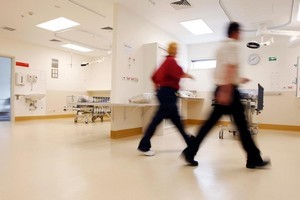 Another Northland family says it "dodged a bullet'' when their 18-year-old daughter survived meningitis.
Mike Vallom of Kerikeri said his daughter Monique was saved by quick medical action when she became dangerously ill in July.
Northland District Health Board has notified four meningococcal incidents in August and two earlier ones, one of which was Miss Vallom.
The August cases were two toddlers, one of whom, Jacob Whyte, died, a 45-year old woman and 18-year old Ben Brown who also died.
Miss Vallom, a Bachelor of Communications student at Auckland University of Technology, was admitted to Whangarei Hospital on July 9 after suddenly becoming severely ill at her parents' home in Kerikeri.
"On the Saturday night it looked very dire but two days later she had started to improve,'' Mr Vallom said.
She had had a slight cough for a week but when she complained of feeling much worse and her condition deteriorated rapidly on the Saturday her family sought immediate medical attention.
Within an hour an unresponsive Miss Vallom was being rushed to Whangarei Hospital by an ambulance which stopped at Bay of Islands Hospital in Kawakawa where IV antibiotics were given.
"That probably saved my life,'' said Miss Vallom, who can't remember anything of that or the next two days. "I'm lucky the people who dealt with me at the beginning knew what they were doing. That quick diagnosis and initial dose of antibiotics probably saved me.''
Miss Vallom spent several days in intensive care in Whangarei Hospital.
Mr Vallom said he believed medical people and the public needed to be aware a rash was sometimes the last symptom to appear, as was the case with his daughter.
He said the death of 18-year old Ben Brown in Whangarei was a "travesty'', particularly in light of the high-profile disease and the public health warnings.
Mr Vallom said he was told by a Whangarei Hospital doctor that his daughter had Neisseria meningitis which was not as contagious or virulent as some strains.
However, a World Health Organisation site describes Neisseria meningitis as having the potential to cause large epidemics: It contains 12 groups, including the strains A, B, C, W135, and X.
Meningitis in whatever form was a notifiable disease, Northland Medical Officer of Health Loek Henneveld said. Many people carry the bacteria that causes it but never become ill.
There appears to be no link between the six Northland cases this year. However, Dr Henneveld said all six cases had been strain C whereas in Auckland all but one of 22 meningococcal cases had been strain B.
Dr Henneveld said there was still no indication that an epidemic -"which we define as greater numbers than you'd expect'' - was pending. He said there were on average up to 10 meningococcal cases in Northland a year.

For more articles from this region, go to Northern Advocate