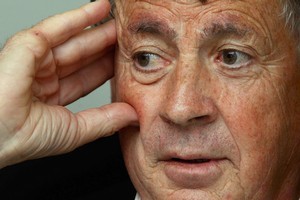 Auckland Transport has spent almost $2 million on a Rugby World Cup facility it hopes it won't have to use during the tournament.
It has re-opened two platforms of Auckland's former main railway station, off The Strand in Parnell, as a back-up train stop in case of an emergency at Britomart.
Although the council agency hopes it will not be necessary to move World Cup crowds to Eden Park, KiwiRail intends using it as one of the Auckland stops for rugby train trips to tournament games in Hamilton.
It is also envisaged as a stop for a twice daily Hamilton-Auckland rail service being recommended by a working party including representatives of Waikato councils and KiwiRail.
The station's reinstatement follows a $1.7 million refurbishment, removing decrepit canopies and raising and resealing long expanses of platforms.
A short section of canopy away from the working part of the station, which operated from 1930 until Britomart opened in 2003, has been preserved in consultation with the Historic Places Trust.
Auckland Transport project manager Nick Seymour said at an opening event co-hosted by landowners Ngati Whatua o Orakei that visual and text displays would be added to show off the site as an historic place of interest.
A public address system, CCTV monitoring and new lighting were included in the upgrade.
Auckland Council transport chairman Mike Lee said that although re-opening the station was to do with preparations for the World Cup to provide a fail-safe back-up to Britomart, there was more to it than that.
"Hopefully we won't have to use it for an emergency during the Rugby World Cup but here it is, just in case," he said.
But he expected the station to be used by a growing number of excursion steam trains, and by a possible Hamilton-Auckland rail service.
He is involved in the Waikato rail working party, which intends asking the region's ratepayers if they would be willing to help pay for the service.
If the service proceeds, trains from the Waikato would loop around Auckland's eastern railway line to Newmarket, via The Strand.
KiwiRail also intends using The Strand for trains running for three World Cup matches in Hamilton. But rugby trains coming from Hamilton to Auckland will use Britomart.
Mr Lee said criticism of a decision by city leaders to move the main station to The Strand in 1930 from its original Britomart site was somewhat misjudged.
That was because the locality was served by trams then, and there were plans from the 1920s to build a rail tunnel from The Strand to Morningside via the Town Hall.
"They were cancelled by a National Government in the 1950s and, as history repeats itself, we've got another tunnel project that is currently being stalled - but this time we are not going to give up."
The tramlines were also pulled up in 1956, leaving the station isolated from downtown Auckland and used by only about 5000 people a day when it was replaced by Britomart, through which daily patronage has grown fivefold.
Strand station
The station upgrade will cost $1.7 million.
Uses:
* Emergency back-up station for Rugby World Cup services to Eden Park.
* Terminus for excursion steam trains.
* Stop for potential twice-daily Hamilton-Auckland rail service.
* Stop for KiwiRail trains to Hamilton for three World Cup matches - All Blacks v Japan (Friday, September 16); Wales v Samoa (Sunday, September 18) and Wales v Fiji (Sunday, October 2).