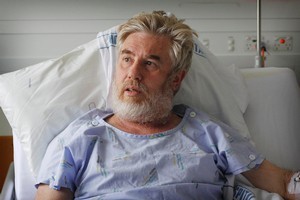 After a head-on collision with his mate's boat that left him unconscious, his teeth rearranged and at least four ribs broken, Dave Ramsay could probably be ready to call it a day with his jet-boating career.
But the 55-year-old, who spoke to the Herald from his hospital bed, says all he is worried about now is his boat and how soon he can get back out on the water.
Mr Ramsay, who runs a Tauranga audio-systems hire centre, was in his 3.7m Hamilton jetboat on the Waihou River, out for a day of what he calls "adventure jet boating" with a friend from Wellington and his mate Lindsay in another boat with a passenger of his own.
The group set off from Te Aroha on Sunday for Okoroire, about 30km south, but about an hour into their journey they went up a side stream to explore.
"I went about 60m up the stream and turned around and came back to the other boat and said to him 'we're right, we're clear, we can go around' and so he went.
"The sound disappeared. He just kept going and going and I thought it's time to go and follow. I went around the corner and there he was coming back down to see us - lights out."
Mr Ramsay thinks he would have been travelling at 40km/h when his boat crashed head-on into Lindsay's.
The impact shunted him into the front of his boat, partly trapping him and collapsing his steering wheel.
His passenger suffered a knock to the head and was also taken to Waikato Hospital. Lindsay's passenger had what was believed to be a dislocated knee.
Westpac Waikato Air Ambulance pilot Dan Harcourt said Mr Ramsay was freed by his mates with the help of a St John advanced paramedic before he was airlifted to Waikato Hospital.
Mr Ramsay said that although two boats being in exactly the same place "is probably not a good call", the accident had not dented his love for the sport he had been enjoying for three years - even though his teeth need fixing.
He has no idea what condition his boat is in but is looking forward to getting back in it and taking off on another adventure.
"It's about going to places that are beautiful, we go through gorges and channels that are only about four metres wide - this is what the tourists come here for.
"It's about sightseeing places you wouldn't normally see."
The jet-propelled boats are designed to travel in shallow water.
They need only 30cm of water under them to travel at speeds of up to 60km/h and can go through passages too narrow for other boats.
Mr Ramsay is likely to be discharged from hospital this week.