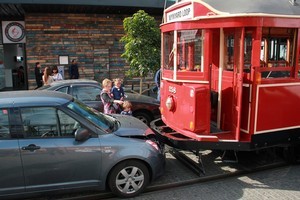 Onlookers at Wynyard Quarter watched Auckland's first tram versus car "fender bender" since 1956.
The car came off second-best in the crash with the tram on Jellicoe St on Sunday.
Although many assumed the small Suzuki Swift rear-ended the tram, the 17-tonne vintage vehicle backed into the car, crumpling the front.
Auckland Tramways operations manager John Smith said the tram "inched back" to let a stationary taxi clear the tracks in front, so the tram could swing around the corner of Jellicoe and Halsey streets.
Although the conductor got off to guide the tram backwards, its driver became distracted by cars trying to go around and reversed too far.
No one was injured, but the car's female driver - who had a small child with her - described the crash as "very, very scary".
"We were just doing as we were told and stopped the car. But this monster of a tram kept reversing and rammed right into my tiny Suzuki," said the 27-year-old.
"It wasn't a very big crash, but it was very, very scary at the time."
Also in the car were her sister and 4-year-old daughter.
"There was not a single apology by either [the conductor] or the tram driver," she said.
Asked if the driver could have avoided the crash by staying further back from the tram, Mr Smith said: "We hit the car, that's the crux of it."
Mr Smith said the tram driver involved in the accident was stood down temporarily but was expected back at work today.
The scrape is the first involving a tram on an Auckland street since the city's extensive public tramway was ripped up 55 years ago.
Double-decker tour bus operator Stephen Hampson-Tindale, who photographed the crash scene, said it was "insane" the tram reversed on such a busy street with many pedestrians.
"There's little toddlers and kids running around there," he said.
It's the rules
* Trams no longer have automatic right-of-way over other traffic - normal road rules apply - although it is an offence to park too close to their tracks.
* Legislation which gave trams precedence was repealed in the 1980s, long after the country's last tramway on a public road was ripped up, and they are now governed by the Railways Act.
* They must be licensed by the Transport Agency and operate bells and lights to warn other road users of their presence.
* The two vintage trams in Auckland's Wynyard Quarter this month go no faster than 10km/h.
- additional reporting Lincoln Tan