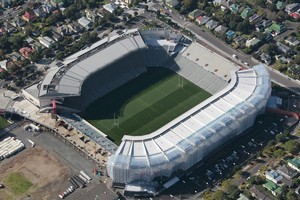 Normally when I go to Eden Park I park off Dominion Rd in Herbert, Milton or Grange Rds. Will I still be able to park there during the RWC then walk to the stadium? Scott Percy, Tonga.
Yes, you will, as these streets are outside the Zone B parking restricted area, but you'll need to be early to find a space and to avoid the traffic.
As there is potential for confusion for overseas visitors and broadcasters, is daylight saving still to start in the last week of September this year, right in the middle of the tournament? Mike Batten, Auckland.
According to the Department of Internal Affairs website, there is no plan to change the date that daylight saving starts this year. Clocks will go forward one hour, from 2am to 3am, on Sunday, September 25.
I am going to the Fiji v Samoa game on September 25, and we have received our information. However, I can't see anywhere on the maps a bicycle parking area.
Can you please inquire as to where this has been set up? Also, will there be any issues with us taking in our panniers, helmets and tools rather than leaving them on the bike to be possibly stolen? Sarah Woodfield, Avondale.
The general manager of sales and marketing at Eden Park, Tracy Morgan, says there are cycle stands at entries C2, D, H and L. And as long as the equipment meets the terms and conditions for entry as posted on the RWC website it will be able to be brought into the stadium. The terms and conditions should also be printed on the reverse of your tickets, and can be found at edenpark.co.nz. A quick scan suggests that you should be okay but it would probably pay to try to keep your gear to a minimum.
I have purchased Category D tickets to all the pool games played at Eden Park. I read in the Herald a while ago that these ticket-holders are not allowed access into the Eden Park main stadium concourse. Are you able to confirm if this is an entry restriction and why those in the temporary stands have been denied this access? Anna Patel, Auckland.
The helpful Ms Morgan tells me that the Category D seats are in one of the two temporary seating areas at the west and east ends of Eden Park. These seats are reached via new entries and have their own facilities with food and beverage outlets, toilets, cash out, police etc. The restriction on access to the rest of the ground is because the stadium organisers need to provide the most efficient entry and exit for up to 10,000 fans from what are temporary facilities.
* The score at the 1956 curtain-raiser between Otahuhu College and Seddon Memorial Tech was 17-16 - thanks to all those who wrote in to let me know. And Thorburn was in the team, although he never became an All Black. Murdoch was in the 1957 college team. Apologies for the error.
* And the Naked Bus Company has now advised it will be running buses from the CBD to Hamilton and back for RWC games at Waikato Stadium. Visit www.nakedbus.com for details and bookings.