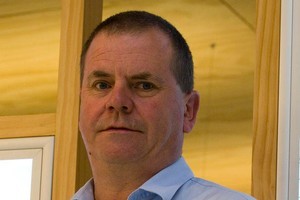 John Bongard credits his comeback from prostate cancer to his GP's regular ordering of a controversial blood test.
Mr Bongard, the former chief executive of Fisher & Paykel Appliances, spoke of his recovery to support the Prostate Cancer Foundation's Blue September campaign to raise money and awareness about the disease.
"There are varying doctors' opinions on the effectiveness of PSA [the prostate-specific antigen blood test] as a guide for prostate cancer," Mr Bongard said. "But I tell you what, they're the three best letters of the alphabet I can think of right now.
"If it wasn't for PSA it would probably have been some time further out into the future before my cancer was detected and that may not have given me as good a chance of surviving as I have right now."
His body at present has no evidence of cancer. Aged 57 now, he was diagnosed in 2008 by a biopsy of his prostate gland following a rectal examination that was indicated by a rise in his PSA level. His GP had been monitoring Mr Bongard's PSA level six-monthly since he turned 50, but increased this to every three months, then monthly, after it began to rise.
Fortunately the cancer had not spread from the prostate. Mr Bongard chose radiation therapy and brachytherapy - which also uses radiation - over the surgical removal of the gland. The only side effect has been that he has to get up several times during the night to use the toilet.
At first following treatment he continued in his high-pressure job, but later opted to retire from Fisher & Paykel after his PSA level started rising again.
"I decided I didn't want to take further risks with cancer and stress."
After a break, he has taken on a "moderate load" as a director of Meridian Energy and several other companies and is setting up an organisation for at-risk youth in South Auckland. His message to men is that too many die of prostate cancer - there were 2939 new cases reported in 2008, and 670 deaths.
"Just get yourself tested."
This advice is in line with the Prostate Cancer Foundation encouragement of all men to be tested from the age of 40.
The Urological Society of Australia and New Zealand recommends men aged 55 to 69 be tested by PSA and digital rectal examination (DRE) after being told the risks and benefits of testing.
It says men from 40 who are "interested in their prostate health ... could have a single PSA test and DRE" to estimate their prostate cancer risk and determine the intensity of subsequent monitoring.
The Ministry of Health makes no recommendation for or against individual testing. It says doctors must give men balanced information on the possible benefits and harms of testing and treatment.
Each year around 40 per cent of men aged over 50 have a PSA test.
Parliament's health select committee, following a 22-month inquiry, supported the ministry's opposition to setting up a prostate cancer screening programme - because of inconsistent results in overseas trials - but wants GPs encouraged to discuss testing with men, generally from the age of 45.
VARIED ADVICE
* Prostate Cancer Foundation: Men should have prostate cancer blood tests from age 40.
* Ministry of Health: No recommendation for or against testing.
* See www.blueseptember.org.nz