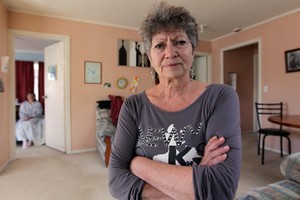 Police have apologised for failing to send help to an intellectually disabled man and his caregiver after they rang 111.
The pair were sheltering in a locked car from a woman thumping the vehicle and shouting abuse at them.
The abusive woman, 20, shares an IHC house with the man, 51, his partner, a frail 58-year-old, and another female flatmate, 22. All four flatmates are intellectually disabled to varying degrees.
Their caregiver, Sheryl Ritchie, works for IHC's service arm Idea Services. She said the 20-year-old was violent and shouldn't be living in the house as the other residents were afraid of her.
Police have admitted they should have attended an incident at the group's Papakura home after Ritchie dialled 111 from her car.
She had been driving the group home when the 20-year-old lashed out at the 22-year-old, grabbing her from behind and hitting her.
Ritchie had to stop the car and physically stop the attack. The 22-year-old suffered scratches in the incident, and was very shaken, as were the other two flatmates.
Back home the 58-year-old woman and the 22-year-old went to bed while the younger woman continued to hurl abuse outside the house. Ritchie and the man sought shelter in the car and at 10.24pm dialled 111, but she was told they wouldn't help. "I was holding the phone up, they could hear the smashing on the car and swearing." She feared the driver's window would break.
Inspector Kerry Watson, commander of the police's Northern Communication Centre, had reviewed the 111 call and contacted Ritchie personally to apologise. "Basically we didn't deal with it as we should have.
"It's a job that we should have attended and we've let her down. She was just looking for a bit of support on that night."
Watson said his team was reviewing how such a call would be handled next time.
Idea Services spokeswoman Philippa Sellens said: "We have been working with the people in the house and their families and the staff.
"We are confident that everyone in the house is very safe and we will ensure that they are supported by the staff."