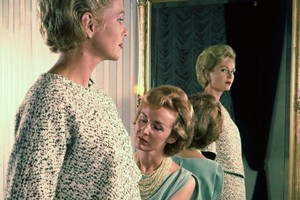 Kiwi designer Barbara Herrick might be 80 but she can remember posing for the New Zealand Woman's Weekly with house model Annemarie Schatzmann as if it was yesterday.
"It was a one-sided, one-sleeved cape," she says of the suit her model was wearing.
Not bad considering the photograph was taken in July 1963.
Her label, Babs Radon, was for women who wanted to dress up - cocktail and evening wear, and clothes for brides who wanted chic going-away outfits.
Hers was an understated Jackie Kennedy style of elegance.
"It wasn't Trelise Cooper time," she laughs. "I'm not being rude but you couldn't have put all that bling on and got away with it. Bling was for after [5pm]. And if you went to a cocktail party you wore a little hat."
In that era, Herrick (who was then Barbara Penberthy) had access to gorgeous fabrics along with other New Zealand designers such as Gus Fisher (El Jay), Emma Knuckey and Rosemarie Muller.
European fabric representatives made regular trips to New Zealand, often for holidays, and brought with them swatches left over from the latest international collections.
"They were happy to get rid of the last 10m."
Herrick worked closely with German-born model Schatzmann, now Farquharson, who lives in Whangarei.
Schatzmann's classic beauty made her a popular choice as a photographic and house model. Admirers compared her to screen siren Greta Garbo. "She was just beautiful," Herrick says.
In her first year of modelling Schatzmann won Model of the Year, a competition run by Berin Spiro who owned a modelling agency and a florist business.
Now 78, she and Herrick are still close friends and talk on the phone regularly.
"Barbara's clothes were absolutely fabulous. I used to wear most of her clothes," Schatzmann says.
Herrick began her business in the late 1950s, working out of a showroom in Auckland's Chancery St. She later had a retail store in Queen St's 246 shopping complex.
Smith & Caughey's were keen to stock her clothes but wanted an exclusive label, so Herrick created a Sophie of 5th Avenue range for the department store.
Three years ago the Hawke's Bay Museum and Art Gallery, which holds a collection of Herrick-designed clothes, ran a five-month exhibition, Babs Radon - The Elegant Moment.
Herrick had saved few of her designs, which spanned a 30-year career, but her former secretary (a "perfect size 8") had kept every Babs Radon outfit in immaculate condition. Her wardrobe formed the basis of the exhibition.
Herrick, widowed after 36 years of marriage to her former accountant, now enjoys living in an inner-city Auckland apartment, complete with a lap pool.
She admits she wouldn't be able to squeeze into many of her Babs Radon creations these days.
"I was a lot skinnier in those days. I married my darling man and became comfortable and round, did a lot of baking and ate it ... and do you know what? I don't really care enough to worry about it."