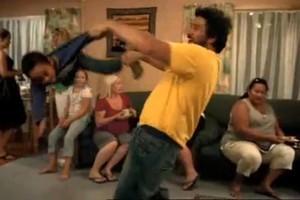 The head of New Zealand's child death review committee is calling for blood testing adults suspected of being drunk when a child dies from an accident or assault.
Dr Nick Baker, who chairs the Child and Youth Mortality Review Committee, says parental intoxication is a factor in New Zealand having the developed world's highest rate of sudden unexplained deaths of infants (SUDI), and in many deaths in places such as driveways and swimming pools.
Yet police did not have powers to blood test adults who were responsible for the children when they died.
"It's an offence to drive a car while intoxicated," he told a social services conference in Auckland this week.
"There is no such rule for looking after a baby while intoxicated, but they do."
He said it would be unfair to blood test adults routinely after children died, but it should be considered in cases such as drunken barbecue parties around a swimming pool.
"It should be discretionary," he said.
Dr Baker's committee gave Health Minister Tony Ryall a major report on alcohol-related harm to children and young people 10 days ago.
He said he could not disclose its recommendations until the report was released.
But he recently described alcohol as "a toxic tide running right across society that impinges on every factor of child and youth wellbeing" from pregnancy-related fetal alcohol syndrome to poor parenting, family violence and youth risk-taking.
He said New Zealand's 60 SUDI deaths a year were often due to parents being unaware of the dangers of letting babies sleep in bed with them.
"Part of the reason these babies die is being suffocated in bed. That is about getting trapped, having their face covered, pressure on the chest from someone sleeping on the baby, and sometimes unrecognised illnesses," he said.
"Sometimes the baby is unsettled so they are moved. Sometimes there is nowhere to sleep except a collection of mattresses on the floor.
"A surprising number die in social gatherings where babies are put somewhere to sleep at short notice."
However, other experts have mixed views on blood testing caregivers after a child's death.
Dr Jean Simpson, of Otago University's injury prevention research unit, said the role of alcohol in child injuries was one of her research priorities and she welcomed Dr Baker's call for blood testing.
"I would agree with Nick, we seriously need to think about it," she said.
But she said it was more important to educate parents about the dangers of drinking when they were responsible for children.
"That requires a lot of change in terms of us as a society putting children first and seriously saying that child matters more to me than having a drink," she said.
Starship paediatric emergency department head Dr Mike Shepherd said car accidents were the biggest cause of accidental child deaths and police could already blood test drivers.
Child Matters chief executive Anthea Simcock said alcohol was one of the three most important factors affecting children's safety, with parents' mental health issues and family violence.
But Police Association president Greg O'Connor said breath testing or blood testing parents after a child had died would imply the parent was to blame even though it may have been a genuine accident.
"I have attended many cot deaths in my career and I would certainly not like to be breath testing parents in those situations where it's almost apportioning blame."
Police spokesman Grant Ogilvie said if police identified alcohol as a factor in the circumstances surrounding a death, that would be investigated and reported to the coroner.
"Police have well-established policies and procedures for the investigation and reporting of sudden deaths," he said.