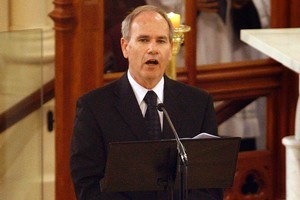 A former council boss paid about $650,000 in the last year of the old Auckland council set-up should be made to pay back $42,000 of improper payments, says a ratepayers group.
Rodney District Council chief executive Rodger Kerr-Newell received a $349,200 severance payout on top of his $300,000 annual salary before leaving the rural council last year.
An inquiry by the Auditor-General into payments to chief executives of the eight dissolving councils found Mr Kerr-Newell received the biggest payout, including $42,000 for a lack of career development that was not required under his employment agreement and breached the Transitional Provisions Act.
Former Rodney Mayor Penny Webster approved $35,000 to Mr Kerr-Newell for untaken professional development time and $7000 for not receiving career transition advice.
The Kaukapakapa Area Residents and Ratepayers Association is lobbying the Auckland Council, saying it has a moral duty to ratepayers to recover the $42,000 from Mr Kerr-Newell.
Ratepayers' organisations from Whangaparaoa and Orewa also want the council to pursue the money, and all three groups have been buoyed by advice from the Auditor-General to take their concerns to Mayor Len Brown and Super City councillors.
Kaukapakapa ratepayers association secretary Crispin Caldicott told councillors yesterday that the payments represented a cavalier attitude towards public funds.
Mr Brown and council chief executive Doug McKay had made excuses for not recovering the money.
"There are many in this country who have to make do on less than $42,000 a year - yet they are still obliged to pay their rates which rise every year. We very much doubt if the Auckland Council would write-off a debt of $42,000 owed by ratepayers," Mr Caldicott said.
Another Rodney ratepayer, Tom Parsons, said: "In the 20-plus years I have been here all the rates I have paid have just walked out the door with someone who is not legally entitled to them."
Yesterday, Mayor Brown stopped debate on the issue, for the council to get "proper advice".
But council lawyer Wendy Brandon later told the Herald that the council had no intention of pursuing Mr Kerr-Newell.
Mr Kerr-Newell, who is believed to be living in Auckland, could not be reached for comment.
THE FIGURES
$300,000 Rodger Kerr-Newell's salary
$349,200 termination payment
$42,000 the Auditor-General says he should not have received