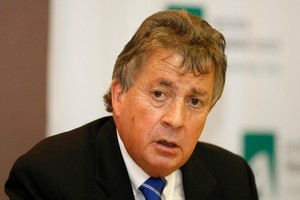 Auckland Council's transport leader has accused rugby league's governing body of being "boneheaded" over a potential clash between the Rugby World Cup kick-off and a Warriors finals match.
"I think it is boneheaded of the NRL to schedule the game for the opening night of the Rugby World Cup for a number of reasons," Mike Lee, the council's transport committee chairman, told the board of its Auckland Transport subsidiary yesterday.
These were not just logistical, he said of the possibility of having to spread transport, policing and security resources to Mt Smart stadium on the night of Friday, September 9, when World Cup festivities will encompass the waterfront as well as Eden Park.
The scheduling was also "pretty dumb, because if they could schedule it on a subsequent night they would surely draw a bigger crowd to Mt Smart, and hopefully they can show some flexibility".
"I don't think we should be over-eager to try to accommodate them," Mr Lee told the transport board.
But board chairman Mark Ford was more conciliatory, saying he was encouraged by advice from officials that there would be adequate contingency plans to cope with both sporting codes if the Warriors ended up playing in the first round of the NRL finals.
That depends on whether they hold fourth place through matches over the next two weekends against the St George-Illawarra Dragons and the North Queensland Cowboys.
Mr Ford said he believed there were contractual arrangements which meant the schedule could not be avoided, but he was sure "it will go right on the night". "We just have to try to manage it, and we will."
NRL football operations director Nathan McGuirk said the league had taken a close look at the possibility of swapping days on which matches would be played in the first week of its final series.
But he said its analysis raised significant concerns that other teams' preparations for matches in that week would be greatly affected.
"We are not prepared to disadvantage a higher-ranked team by further shortening their preparation by a day despite the Warriors' unique circumstances with the Rugby World Cup.
"I am sure everyone's priority will be to provide the best possible experience for fans attending both games, and that's what we continue to work towards, should the Warriors finish fourth and earn the right to host the Friday night home final."
Despite Mr Lee's comment about possible league crowd numbers during a clash of the two sporting codes, up to 24,000 spectators are believed to be likely to attend Mt Smart, as 60,000 rugby enthusiasts head to Eden Park.
Auckland Transport spokesman Wally Thomas said after the meeting that league fans were not generally heavy patrons of public transport.
But Mr Thomas acknowledged that a match at Mt Smart would put thousands of extra cars on the roads.
Even so, Auckland Mayor Len Brown indicated confidence that the city could manage both events.