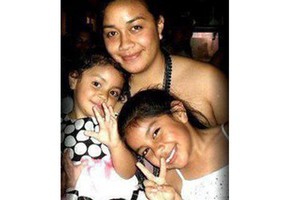 A New Zealand woman who lost six family members in Australia's worst house fire has told how her uncle screamed at the occupants to jump from an upstairs window.
Jeremiah Lale smashed through a window of his blazing home, threw a mattress to the ground ... then watched in horror as his wife and five children fled the wrong way.
He lost his wife, Jeanette, and their children Jerry, 18, Paul, 17, Lafoai, 14, Kioa and Richard, 4.
The inferno in Logan City, south of Brisbane, claimed 11 lives - eight of them children or teenagers.
In a phone call to relatives in New Zealand, a shocked Mr Lale told of the terrifying scramble for safety.
"He'd woken up to a loud bang and couldn't go downstairs because of the fire," said his niece Esta Tamaalii in Wellington
"He went back and woke his family up, tossed a mattress out the window and told everyone to jump."
Mr Lale jumped and thought his wife and children would follow.
"He said it was just seconds from him jumping from the second storey to the mattress on the ground.
"As soon as he landed, he looked up and the house was on fire. He thought they would be standing waiting to jump, but it was already on fire."
She said her uncle thought his family were right behind him.
"He jumped to show them that it could be done. That's what he had in his mind."

Mrs Tamaalii and other family members learned of the terrible news early yesterday after finding missed calls from Australia on their cellphones. When they made contact with relatives, all they could hear was wailing.
"They couldn't get any words out. They just couldn't speak. The only words they could utter were that Janet and the kids had died and uncle had jumped out the window."
Mrs Tamaalii, 35, said her uncle was in New Zealand in April to celebrate his 50th birthday. The party was a surprise present from his family.
"He didn't bring his family but they all pitched in - all the kids and his wife - to bring him over because it was his first trip back to New Zealand ... He always loved New Zealand and wanted to come back."

Mrs Tamaalii said her father, Faalafi Tipa Lale, and the rest of the family were devastated by the blaze and were preparing to fly to Queensland for the funerals.
The family were only all together two weeks ago at a family wedding.
"It was a beautiful event."

The 11 victims are three generations of the same family, which has Tongan and Samoan members.
The inferno engulfed the house in the Logan City suburb of Kingston, early yesterday.
Another of the three men to escape, Misi Matauina, lost his wife and two daughters, aged 6 and 4, in the blaze.

Yesterday, hundreds of people mourned in the street outside the ruins of the house, singing songs of grief, praying and joining impromptu services led by local religious leaders.
The cause of the fire is still being investigated, but Fire and Rescue Service Acting Chief Superintendent Peter Ryan said four 45kg LPG cylinders had been venting, and two cars parked nearby had also caught fire.
The blaze raged up from the storage space beneath the first-floor house, spreading across windows and the roof within minutes.
Loud bangs woke neighbours, who called the fire brigade shortly after midnight. But when the first engines arrived five minutes later, the house was completely engulfed.
Logan City Samoan leader Faimalotoa John Pali said he spoke to Jeremiah Lale.
"He told me he was in the building but it happened so fast. A gas bottle exploded. It was just like a bomb," he said.
"There was fire everywhere. He said he was running side to side and fire was everywhere.
"He called for his family; he broke a window and threw down some mattresses...
"But they all went into one room together and they all died in the same room."