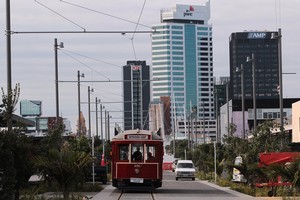 Auckland's new waterfront tramway circuit will from today cost city residents and ratepayers half the $10 opening price to ride.
The tramway operation through Wynyard Quarter will rely on people's honesty in declaring whether they should pay the $5 locals fare or $10 for out-of-towners.
Workers in the precinct will also from next week be able to buy multiple-use tickets from their employers, allowing them to ride on either of the two historic trams on their 1.5km circuit for $2 a time.
The Waterfront Auckland agency denies it was under pressure to cut its fares, despite criticism of the $10 charge from tram enthusiasts posting messages on the Campaign for Better Transport website.
One blogger claimed Aucklanders were "shooting themselves in both feet by charging a stupid amount" to ride on the trams and another called the price daylight robbery.
But Waterfront Auckland chief executive John Dalzell said last night that the trams were attracting enough custom for his organisation to be able to reduce the fare for local people while remaining confident of breaking even.
"We were getting the numbers through and they were paying the $10, although there were a number of specials," he said.
"This is all about the social programme of building a community and getting people down to the quarter," he said of the price review.
"We've always wanted to make this an affordable attraction for Aucklanders, but we were very careful to make sure it paid its way - we didn't want to have to subsidise the operation."
The initial deal when the trams began running three weeks ago was that a $10 fare entitled an adult to travel on them all day if they wished, and up to three children under 16 could ride free.
From today , only only two children will be allowed to ride free, after what Mr Dalzell called a balancing exercise.
He said visitors to the city should keep an eye on his organisation's website, www.waterfrontauckland.co.nz, for discount offers such as during weekdays when tram patronage was relatively light.
About 6000 people rode on the trams in the opening weekend, and an average of 700 a day did so on each of the following weekends.
Weekday patronage is running at about 250 passengers.
Despite the short length of the tram circuit, which has four stops, Waterfront Auckland says passengers also get a commentary from tram drivers.
It has also started a programme for schools in which children are charged $5 for tram rides, resource material and a guided tour of Wynyard Quarter and their teachers and caregivers travel free.