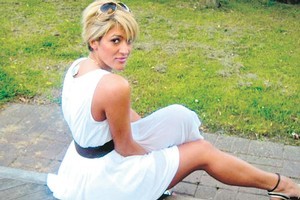 A woman accused of conning online traders out of tens of thousands of dollars has been granted bail.
Elmira Rafiee, 24, appeared at the High Court in Auckland today after being picked up by police in a car outside out of her curfew time and after midnight earlier this month.
Raifee was a passenger in the car but her and her boyfriend denied all knowledge of a point bag and laptops that were found in the vehicle.
Crown prosecutor Scott McColgan said he had "very concerning information" from a detective sergeant about what Raifee and her associate were doing that night.
He argued that Raifee should be subjected to electronically monitored bail.
"Here's someone right from the get-go who has breached their bail conditions."
Raifee's lawyer Mark Ryan said his client was willing not to associate with her boyfriend.
He said there was a "very slim chance" that police would lay any charges relating to the point bag and the laptops.
He said any trial regarding the dishonesty offending, where Raifee faces 56 charges relating to Trade Me and Sella auctions, would be at the end of next year.
He said Raifee's father was willing to have her stay with him.
Justice Mark Woolford said Raifee's lack of previous convictions was a "major plus".
He said any concerns could be met by strict bail conditions
"You need to know, however, if you breach bail again, you will not be treated quite so leniently."
Justice Woolford imposed a curfew of 7pm to 7am and told Raifee she was not to access the internet or advertise anything for sale in any medium.
He also imposed a non-association order which will prevent her from seeing her boyfriend or to communicate with any of the complainants.
Raifee is alleged to have contacted prospective buyers on Trade Me and other auction sites and offered to sell them iPads and iPhones.
The police laid 55 new charges of obtaining by deception against Rafiee at the Auckland District Court yesterday.
She also faces a charge of using a computer for a dishonest purpose.
Police allege she stole about $46,000.
Trade Me trust and safety manager Jon Duffy said Rafiee is alleged to have contacted prospective buyers of iPhones and iPads who had posted their contact details in a question on auctions.
He said Rafiee is alleged to have contacted them and offered them the goods outside the auction.
Mr Duffy said Trade Me warned people not to put their contact details on auctions.
He said under Trade Me terms and conditions, prospective buyers cannot make contact with the seller outside the auction process.
"If someone wants to invite you off the site, ask why. Okay, the seller avoids the fees but the trade-off is you lose safety."
- APNZ