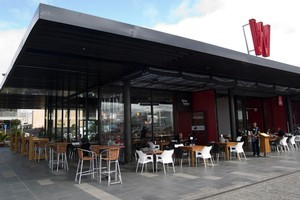 Dishonest diners are enjoying their meals then fleeing without paying - forcing some restaurants to take defensive measures such as asking patrons to pay before they eat.
In one Auckland dine-and-dash incident at the weekend, a "waddling couple" were caught but became so incensed that one of the well-dressed women slapped the restaurant owner who was trying to get them to pay.
The restaurant is not on its own. Provisional results from a Restaurant Association survey show many eateries have had customers leave without paying, although the reasons seem to vary - from forgetfulness to outright dishonesty.
The association's chief executive, Marisa Bidois, started surveying 1600 members yesterday, following Herald inquiries.
By last night, 56 per cent of the 121 members who had responded said runners were a problem.
One said they had "three runners in the past six months" and another said it was such a big problem 12 years ago that they were losing $500 a day - forcing them to become a pay-then-dine cafe.
But another said they had been open for nine years, "and we have only had one runner in that time and we have served over a hundred thousand people".
Auckland's new Wynyard Quarter waterfront area has many restaurants with outdoor seating - one diner told the Herald he was told by a waitress he would have to provide his credit card before being served because of more than 100 eat-and-run incidents in recent days.
When the Herald visited the Jack Tar restaurant for lunch yesterday, a staff member asked for payment or a credit card to start a tab.
The staff member said the request was made because of the high number of patrons at the weekend who had walked away after a a free lunch.
Jack Tar Restaurant and Bar owner Peter Parkin, who has managed bars and eateries in Wellington including The Back Bencher, said the number of runaway diners was "minor".
"We've got systems in place, but for me to say it hasn't happened wouldn't be totally true."
Marvel Grill owner Simon Salt said he'd run down a pair of middle-aged diners at the weekend after they tried to flee his North Wharf eatery in the Wynyard Quarter, only for one to slap him once she was caught.
"Boy they were not happy. They were 55-year-old women and they got so abusive.
"I was thrilled to catch them. They were sort of waddling, it wasn't really doing a runner ... they were all dressed up, lovely ladies, and I said 'do you know what you are going to feel like in the morning?'
"But they seemed oblivious, so they might be habitual runners."
Police were called, but the women paid while he was on the phone.
Urban Turban owner Glen Giroux said he'd had quite a few runners and if the problem persisted he would consider taking credit cards.
When the restaurant was crowded, it was easy for some to walk away.
"It's just a couple of beers they order and when the server goes away they walk off because there's so many people to blend into."
A manager for Pescado Cafe and Tapas Bar said cheaters were probably no worse at North Wharf than anywhere else.
Businesses could expect one or two runners a week, but a more common problem was one person in a group not paying.
Ms Bidois said it was unclear how much the problem was costing the industry, but it had existed for a long time.
"I think it has always been there in the background for the industry ... but of course it's something we always need to be vigilant about."
She didn't think the recession had made the problem worse and there didn't appear to be any particular reason people did it.
Some simply forgot and often made an embarrassed return next day to pay.
Ms Bidois said Kiwis were generally honest but businesses had to be aware of those who didn't want to pay.
Tips from members to reduce the risk included being aware of restaurant layout - staff should be able to easily keep an eye on diners - and making sure enough staff were on duty to maintain frequent checks on customers.