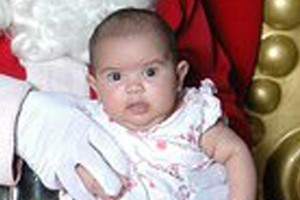 Nearly four months after Serenity Scott's life-support system was switched off, the little girl's killer has not been brought to justice.
The six-month-old Ngaruawahia girl had just learned to crawl, but on April 26 was admitted to the Starship hospital paediatric intensive-care unit with severe brain injuries that police said were non-accidental.
She was surrounded by her family off when the decision was made to switch her life support two days later.
Yesterday, Serenity's great-grandmother, Jackie Anderson, said she still thought about her every day.
"I think of that little baby, and that someone has done it and someone has to be accountable for it," she said.
Police have not publicly said who their core suspects are.
The only people in the Ngaruawahia house just before Serenity was admitted to hospital were mother Chelsea Scott, her fiance Mathew Ellery and her brother, Drew Scott.
A post-mortem examination, completed in May, "identified areas requiring further investigation" that police said could take some time.
A frustrated Ms Anderson said she knew police were doing their best, but "it's getting a little bit drawn out ... It's like, how long is a piece of string?"
Ms Anderson said her grandson, Drew Scott, left the Havelock Rd home he shared with his sister and Mr Ellery days after the incident.
The Herald understands that relations between the trio are strained, and Drew Scott is now living with his grandfather in Blenheim.
A man understood to be Mr Scott's grandfather denied any knowledge of Mr Scott or his whereabouts when called yesterday.
He then threatened to sue the Herald "for harassment".
But Ms Anderson said Mr Scott was living with his grandfather because "there was nowhere else for him to go".
He had not had any contact with his sister or Mr Ellery since he left Ngaruawahia.
Ms Anderson said Chelsea had the "patience of an angel" and was a good mother to Serenity and her older brother Travis, now in CYF care. "Chelsea never ever smacked Travis ... She loved her children to bits, both of them. She would call me and say 'ooh, she's crawling' and would send me photos."
But she was less effusive when asked about Chelsea's partner and even her grandson.
Detective Senior Sergeant Mark Greene of Hamilton police would not answer specific Herald questions about the inquiry.
But it is understood to involve forensic experts from overseas.
Last month Chelsea Scott identified who she believes is her child's killer on a website. She earlier said the killer was walking free and that she wanted "to see justice done".
She did not return calls yesterday.