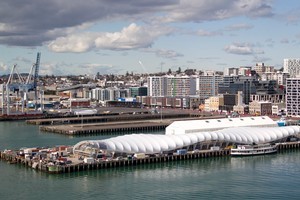 Huge cargo ships will be unloading cars next to Party Central on key Rugby World Cup dates, dwarfing the $10 million Cloud built to house thousands of rugby fans.
Almost 180 ships are scheduled to arrive in Auckland during the tournament, using several wharves along the waterfront.
Captain Cook Wharf is 100m from Queens Wharf, and is used by ships carrying cars and other vehicles. Six ships will use the wharf during the World Cup, including the Aquamarine Ace on the two days after opening night and the Hoegh Xiamen on the day of the Cup's marquee match, All Blacks-France at Eden Park.
The ships, both arriving from Brisbane, are almost 200m long and rise high above the waterline.
Heart of the City chief executive Alex Swney said the city's trade needed to go on regardless of the World Cup, but the tournament could highlight the incongruity of an industrial port lying at the centre of the CBD.
"This is something we've long lamented - the reverse sensitivity of an industrial port so near the central city."
Other cities around the world - such as Hong Kong, Mumbai and Sydney - had relocated their ports to boost tourism, and Auckland should be doing the same, Mr Swney said.
"Business has to go on but our hope is New Zealanders and Aucklanders look at how we want our waterfront to work in the future ... Most Aucklanders are embarrassed about our front door today," he said. "We're the City of Sails. It would be nice if the city was represented by sails instead of containers."
Councillor Mike Lee said Auckland should be proud of its industrial base.
"This is like any city in the world - it's a working city. It's a gateway to our maritime trade and we should be proud of it," Mr Lee said. "I'm not impressed with anyone thinking we should hide the cargo because it might offend rugger fans. Maybe all factories should be hidden and sent south."