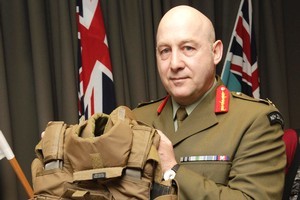 Prime Minister John Key is not ruling out future Special Airforce Service (SAS) deployments to Afghanistan.
Questions have been raised about the SAS timeline following last week's death of Corporal Douglas Grant, New Zealand's third soldier to die in Afghanistan in the last two years.
Cpl Grant, 41, died after being shot by an insurgent on Friday during an operation to rescue hostages at the British Council cultural centre, which was under attack by the Taliban.
Speaking to reporters at a post-Cabinet press conference this afternoon, Mr Key said his expectation was still for the SAS to come home in March, but that he could not rule out sending them back.
"Our plan at this point is to bring them home in March 2012, we think they will have had two and a half years there and done a tremendous job, I think that's about in line with our expectations of how long that they will be there,'' Mr Key said.
"But, you know, we always take these things on a case by case basis, I can't rule out that they won't be deployed in another rotation at some time in the future, but that's not something we've planned at the moment.''
Mr Key rejected accusations he downplayed the dangers facing New Zealand soldiers in Afghanistan when troops were sent in 2009.
Asked whether the situation was now more dangerous, Mr Key said the terrorist tactics were becoming more focused on high-profile sites to maximise international attention.
"So it's more changing in nature, rather than becoming more dangerous,'' Mr Key said.
The SAS were still primarily serving a mentoring role to the Afghan Crisis Response Unit, preparing the team to take over when foreign forces left the country.
Mr Key said Friday's operation was not an exception.
"The CRU ran that operation, there were about 100 CRU members involved in that operation, the New Zealanders did play a mentoring role, it started getting a bit nastier more were called in as backup, but the command of that whole operation was with the CRU,'' he said.
"My understanding is, just talking to SAS members as I did at the weekend, there's certainly a substantial increase in capability coming from the CRU.''
'World class' protection not enough
Defence Force chief Lieutenant General Rhys Jones went into further detail about the operation at a press conference this morning, defending the army's protection systems and describing Cpl Grant's last moments.
"Once the operation had been under way for a while it was realised the Afghan forces needed to focus on countering the terrorists, and so our SAS were given the tasks of rescuing the civilians that were still in the building.''
Cpl Grant was on a roof of a building near the centre when an insurgent shot him with a rifle or a light machine gun round. The bullet entered under his arm, pierced his heart, and came out on the other side of his body.
"In hindsight, we know that he would probably never have recovered from those injuries, they were terminal, but as he was evacuated out the medics who were with him were able to discern a pulse,'' Lt Gen Jones said.
He was taken to the military hospital by helicopter but died en route.
The insurgent who shot Cpl Grant was among the terrorists killed in the operation. Three British civilians and two Gurkha security guards were rescued from the building.
Lt Gen Jones deflected blame from the defence force, saying the protection systems were first rate.
"We are confident that the equipment that we have, in terms of the personal protection gear, the body armour, the helmets, the other protection systems that we have for our people are world class, and it was just the reality of the battlefield environment that he was caught by someone firing from his side,'' he said.
"The body armour we use is designed to protect the vital organs as much as we can, but the reality is, because of the functionality that they need, the mobility on the battlefield, it's impossible for us to fully protect someone.''
Lt Gen Jones also spoke highly of the medical treatment provided to Cpl Grant.
"The amount of support immediately at the time of his injury and throughout was world class, and the hospital he was going back to in Bagram again is a world class hospital with amazing facilities, if there was a chance to revive him, that was his best chance.''
Defence Minister Wayne Mapp said Cpl Grant died protecting and saving lives.
"I am conscious that whenever young New Zealanders are deployed overseas that this is the risk that we ask them to take, and on this particular occasion the highest price has been paid, and fundamentally it is actually paid by his family,'' Dr Mapp said.
Cpl Grant, who left behind a wife, a seven-year-old daughter and a five-year-old son, had served in the Defence Force for 21 years, in East Timor twice, in the former Yugoslavia, and previously in Afghanistan.
His wife, Tina, serves in the Defence Force's education core and previously worked as a medic.
In a statement, Cpl Grant's family said he had understood the dangers of Afghanistan and believed in the mission he was there to do.
"He was a determined person, some might say stubborn in his pursuit of his goals while growing up. He wrote in a school essay once that he wanted to be in the SAS; he worked towards that goal from that time onwards and convinced the Army he could do the job,'' it said.
"He shied away from the spotlight preferring to focus his attentions on his family and getting whatever job he tackled done to the best of his considerable abilities whether it was building a house, being a soldier, or being a husband and father.''
Cpl Grant's body would be returned to New Zealand on a commercial flight this week, and a private commemoration was likely to be held in Auckland before he was taken to Linton Military Camp, where he would lie in state for a few days.
- NZPA