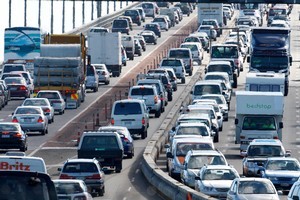 Auckland has been lambasted by an Australian transport expert as one of the world's most "car-biased" cities.
Paul Mees, who for 10 years has portrayed Auckland to his students at Melbourne universities as having worst-practice transport systems, said the city would rank top of a world league table for motorways.
"But if you compare its public transport with the best in the world, it's right down the bottom, even with the improvements that have already happened," he said from Wellington, where he spoke to a conference sponsored by the Labour and Green Parties.
"The area which should have priority for improvement is where there is the biggest gap between the current situation and global leaders."
Dr Mees said he had no doubt Transport Minister Steven Joyce was correct in observing that about 85 per cent of Aucklanders travelled to work each day using road-based transport, compared with only "1.5 per cent or so" taking trains.
The minister cited those statistics in defence of a $1.4 billion budget for the Waterview motorway project, for which the Transport Agency has selected a Fletcher Construction-led consortium.
Dr Mees, now a senior lecturer in transport planning at Melbourne's RIMT University, said these were hardly surprising.
"For half a century Auckland has pursued the most car-based transport policy of just about any city in the developed world, so it would be amazing if the car didn't dominate the travel patterns of Aucklanders," he said.
"But if you asked Aucklanders if they are happy that they have to drive everywhere as public transport is not really an option, they will tell you they are not happy."
He said most people in his "pin-up" Swiss city of Zurich once travelled to work by car, but they now had superior public transport.
"The question is not what people are doing when they haven't really got a choice - the evidence is that the very modest public transport upgradings that have happened already in Auckland have been flooded by passengers."
He believed the local community and Auckland's elected councillors were more appreciative of the need for better public transport than a decade ago, but the Government still resisted "that uncomfortable route".
Of calls by the Automobile Association and others for Auckland's motorway network to be completed, Dr Mees said few world cities had reached such a position, and there would never be enough roads to satisfy them.
Auckland had more motorway lane kilometres than his city of 4 million people, yet was stifled by congestion.
"No city in the world with more than half a million people has ever been able to solve its traffic problems with motorways." he said.
"A lot have tried, but eventually they all reached a point where they accepted they had to shift the priority to public transport.
"They can build as many motorways as they like but it won't increase the capacity of the central city to absorb cars. People have to get off the motorways to get to their destinations."
Asked why he was so fascinated by Auckland, Dr Mees said it was because the city was "such an extreme case" in its low public transport use, which accounted for about 6 per cent of trips at the 2006 Census compared with more than 20 per cent in Sydney.
He said a claim that Auckland was too spread out to make public transport work was an "urban myth", as it had about the same population density as Sydney and was considerably denser than Melbourne.
The National Road Carriers have, meanwhile, greeted Friday's Waterview announcement with a call for other projects such as an east-west corridor between East Tamaki and Onehunga to be accelerated.
"Waterview's completion cannot come fast enough, but other critical road projects also need to be moved along as fast, if not faster," said executive director David Aitken.
He said completing the western ring route, in which Waterview will be the final link, would see far more freight travelling on local roads between the Southern Motorway at Mt Wellington and State Highway 20 at Onehunga.