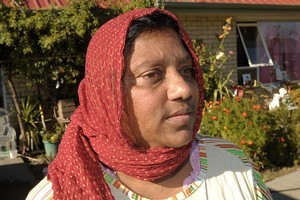 As the frost thawed at the SAS home base in Papakura, South Auckland, parents were setting up for the first soccer matches of the day on nearby sports fields.
On the far side of the base, young kids were playing out on the road, oblivious to the fact that a next-door neighbour had died on the other side of the world.
Contractor Bart Ringrose, 49, looks out his back fence at his Corkill Pl home on to the secretive compound.
He has chatted to members of the elite squad over the years and was even invited for a visit.
Members of the SAS are "honourable men to talk to", he said.
They are normal people, who talk about normal things like: "When are you going to call me over to your club for a beer, boys?"
During visits to the base, Ringrose said he felt a power among the men.
"You're walking through a bunch of highly trained killers standing there smiling at you."
Student Ellen Waenga was sad at the news.
"Doesn't that just send shivers down your spine?" said the 40-year-old.
"Living so close to people that move overseas to fight for our country; it's heroic but it's also sad they don't come back to their families."
The fallen man is New Zealand's third soldier killed in Afghanistan and the first from the Special Air Service.
SAS soldier Charlie Thomas was the first to die in Malaya in 1956. Fourteen years later, Graham Campbell was killed in action in Vietnam.
That Friday's death was just the third SAS soldier to be killed in action was a tribute to the unit's training and discipline, said SAS original Ray Hurle, who served alongside Thomas. Hurle said: "If you have served with the SAS you feel that you are apart from the rest of society. The training you go through, the bond that develops with the guys you serve with. It's quite unique."
Sir Wilson Whineray, chairman of the SAS Trust, said the soldier's family would be taken care of by the wider army community.
The uncle of Lieutenant Timothy O'Donnell, who was killed in August last year, said it took a long time for the pain to heal.
Barry O'Donnell said: "The difficulty is you are a long, long way away and you don't actually know what happened, and you don't know when your loved one is going to be returned. You have a period of great uncertainty."
The army had informed Timothy's mother and father Mark of the SAS death.