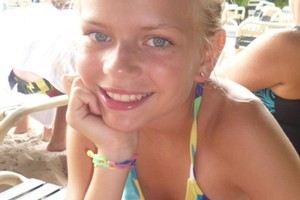 An accident report into the death of an 11-year-old British girl who died when she was hit by a ski boat driven by a New Zealander says a series of safety issues led to her death.
Mari-Simon Cronje, 11, was being towed on an inflatable banana-boat at a friends birthday party when she fell off and was struck by the propellor of the ski boat towing her on September 11 last year.
New Zealander Matt Gibson, 22, was driving the boat for Princes Club Water Sports Park and was arrested on suspicion of manslaughter. He was released on bail and is due to reappear at a police station in October this year.
The Marine Accident Investigation Branch (MAIB) said Mari-Simon fell of the banana boat, but Mr Gibson did not notice and continued on a tight circular route and struck the girl. She later died in hospital.
The report found there was a series of safety issues which directly contributed to her death, which included:
* Mari-Simon was not seen to fall in the water because an observer or spotter was not on the ski boat;
* her chances of being seen were decreased because of the low visibility equipment issued to her;
* the slower speed which was required when towing an inflatable meant the boat had a large "bow-up trim" which severely restricted the driver's forward visibility;
* a shorter route taken by the driver limited the time available to see Mari-Simon in the water; and
* the risk assessment for the banana boat ride did not identify the hazard of a fallen rider not being seen.
As a result of the findings the MAIB recommended to the National Water Safety Forum and British Water Ski and Wakeboard they develop a code of practice, which covered not only the activity of towed inflatable rides but also offered guidance on the health and safety management of centres which conduct them.
It recommended the Maritime and Coastguard Agency clarified the licensing requirements for ski boats engaged in towing on a commercial basis.
It also said the London Borough of Hounslow Council should introduce a licensing scheme for this activity in its area.
The Princes Club Water Sports Park now did not offer inflatable boat rides.
A similar accident happened in January 2009 when a Wellington real estate agent hit a Wairarapa girl, nine-year-old Genevieve Lewis, with his boat on Lake Taupo.
Genevieve, from Eketahuna, had been water skiing at Waipahihi Bay, about 2km south of Taupo's centre, when she fell off her skis.
Her parents were turning their boat around to come back to her when another boat, driven by John Curtis, was coming from a different direction and ran over the top of her.
Genevieve was taken to shore but died at the scene.
Curtis pleaded guilty at Taupo District Court to a charge of using a boat in a manner causing unnecessary danger to another person and was fined $3000 and ordered to pay reparation of $20,000.
- NZPA