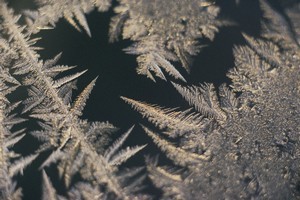 The bitterly cold southerly which brought snow to most parts of the country earlier this week is retreating, but widespread frosts are taking its place.
Frosts have been creeping further eastwards and tonight and tomorrow morning they will be the most widespread they have been this week, and possibly this year, WeatherWatch analyst Philip Duncan said.
"Tonight we'll see more frosts around sheltered parts of Wellington, Wairarapa, Hawkes Bay and Gisborne and heavier frosts across Canterbury."
The southerly was expected to clip Wellington, Gisborne and a few coastal places before losing its puff, Mr Duncan said.
Black ice risks remain in many areas where roads are wet from either melted snow or earlier rain.
Black ice could often be more of an issue on the smaller roads and highways where there is less traffic, Mr Duncan said.
Frequent traffic dries roads out making the chances of ice forming much lower.
Meanwhile, the Manawatu Gorge, State Highway 3, is likely to be closed until next week after a large slip came down on Thursday following heavy rain.
The Pahiatua Track and the Saddle Road are alternative routes.
- NZPA