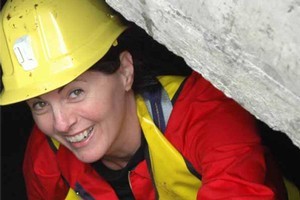 The family of a Watercare maintenance planner killed in an Auckland gas explosion have broken their silence to call for answers about how and why the mother-of-two died.
It is two months since Canadian-born Philomen Gulland died in the unexplained blast while she was inspecting a tunnel in Onehunga.
But Ms Gulland's family are no closer to knowing how she died - and say they have been left in the dark by authorities investigating the tragedy.
Ms Gulland's brother, Bernie Penner, said: "The only thing that I know is what I read in the papers or read online. We haven't been told anything."
He said no one had given Ms Gulland's family updates about the investigation into her death, which he said might help to ease their pain.
"I'm waiting for the inquest because there are a lot of unanswered questions which need answering."
The Department of Labour is investigating the explosion, but a spokesman said that because of the complexity of the case, its findings might not be available for four months.
Ms Gulland's mother, Margaret Penner, arrived in New Zealand from British Columbia, Canada, with Bernie Penner's wife, Zdenka, on Tuesday.
They are staying with Ms Gulland's estranged husband, Jonathan, while they get the Watercare worker's affairs in order and sort out her apartment.
Speaking for the first time since her daughter was killed, Mrs Penner told the Herald she, too, wanted to know what had gone wrong that day, but added: "No matter what the outcome is, it won't bring Philomen back."
A Department of Labour spokeswoman said letters had been sent to Ms Gulland's family in New Zealand and Canada.
The letter sent to a local address, which said the department was investigating and included contact details, was returned unopened, the spokeswoman said.
"A second letter was sent to the Canadian address in July and we are sorry to hear that the parents did not receive the letter before they left Canada."
The department had not known that Mrs Penner was coming to New Zealand, and wanted to meet her to discuss the investigation.
Mrs Penner said she was thankful for the support she had received since arriving in New Zealand.
"I've got so many good friends and family here. They've been really incredible and have helped us immensely."
She said she still missed her daughter, and thought about her each day.
"I have a very strong spirituality and there's just no question that you accept what you can't change. There's good days and there's bad days.
"But I firmly believe that while my daughter might not be with me physically, she's in my heart, she's in my memories and every time that I look at my grandchildren and other children, I see her."
Ms Gulland's 18-year-old daughter, Emma, has been living with her grandparents in Canada for two years.
Her son, Cameron, 15, is with his father in Auckland, but may now go back to Canada with his grandmother to be closer to family.
Mrs Penner said both children were "doing fine" and had handled the loss of their mother as well as could be expected.
"Young people deal with it a lot easier than older folk. When you're older, you have a tendency to hold on to things and don't like change, whereas young people have continual change, so they're able to deal with things.
"But that's not to say that they don't miss their mother and won't continue to miss her."
Ms Gulland, 48, and network engineer Ian Winson were several metres inside a watermain in Onehunga inspecting its condition on June 4 when the gas explosion occurred.
Ms Gulland died at the scene. Mr Winson lost part of both legs, and two other workers were seriously injured.
Methane gas was found in a pipe at the scene of the explosion.
The source of the gas and the cause of the explosion are being investigated.
The Department of Labour spokeswoman said it worked to complete investigations in a reasonable timeframe.
"This can take as long as six months because of the complexity and nature of the case. However, most investigations are finished sooner."