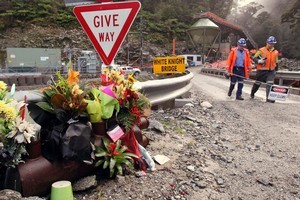 The number of mining safety inspectors will increase fourfold in what opposition parties are calling a Government admission that previous safety standards were not up to scratch.
Yesterday Labour Minister Kate Wilkinson announced a High Hazards Unit including eight safety inspectors, a chief inspector and three inspectors for each of the mining and petroleum sectors.
The Government at present has two safety inspectors: one for the mining sector (although another position is currently vacant) and one for petroleum. The changes would cost an extra $1.5 million.
The move was welcomed by the Labour and Green parties, which have repeatedly called for more safety action rather than awaiting the outcome of the royal commission of inquiry into the Pike River mine disaster.
Green Party MP Kevin Hague, who is based on the West Coast, has repeatedly demanded immediate action to improve mining safety.
"It clearly is a backdown from the Government, and a backdown that's been a long time coming. I never understood why Kate Wilkinson was stonewalling this issue.
"People's lives are at stake here, and urgent action by the Government has been needed all along."
Mr Hague said more inspectors and better auditing at the Pike River mine might have prevented the disaster, or at least made it less likely to happen.
"Evidence of risks from the regulatory framework and inspection system painted a picture that the Government could not afford to ignore.
"It's really clear that this is an admission that the safety inspectorate has not been up to scratch."
But he said further safety measures were needed, such as a mandatory requirement for two exits from a mine.
Establishing the unit was in part a response to the Pike River disaster, which claimed 29 lives last November andsparked an internal review by the Department of Labour. The review founda need for a national reporting structureand better auditing of health and safety systems.
"Further recommendations included strengthening the relationship with Australian regulators, improving the professional development of inspectors, and strengthening work with industry to develop codes and standards," a Cabinet paper said.
A separate review of health and safety and environmental legislation for offshore petroleum recommended more inspectors for the sector.
Ms Wilkinson disagreed that the previous regime was inadequate.
"We have always been looking at resources, making sure they are adequate. Pike River was a catalyst for it."