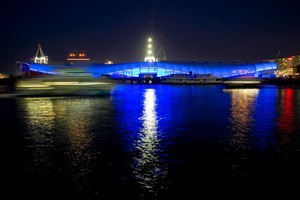 Performers' sound checks for the Rugby World Cup opening-night celebrations will have to avoid disturbing another big Auckland event - the Pacific Islands Forum.
The possible clash between bursts of highly amplified music at the downtown waterfront venue and the forum's gathering of 500 delegates was revealed yesterday at a Rugby World Cup Authority hearing.
Auckland Tourism Events and Economic Development (Ateed) has changed its application for the opening festivities on Friday, September 9.
It had consent for sound checks for the 80-minute concert by the Finn Brothers on a stage in the northeastern end of the Queens Wharf Fanzone.
But planning consultant John Duthie said Ateed also sought authority to check the distribution of sound by speakers placed along the 1km from the wharf stage to Quay St and a virtual back up fanzone at Viaduct Harbour.
The sound had to be synchronised with the big screens, he said.
"We want a good, crisp sound throughout this events area while still meeting our noise model requirements."
The plan to do the sound checks from 9am to 5pm on the Thursday was changed because of the Pacific Islands Forum leaders' meeting.
The forum runs from September 6 to September 9 and will use the Cloud on Queens Wharf, as well as the SkyCity Convention Centre and Viaduct Events Centre.
To avoid problems, sound checks affecting Quay St and the Viaduct will not start until 3.30pm on the Thursday and will run until to 8.30pm.
Sound checks for the band playing at the Queens Wharf area will be from 3.30pm to 9.30pm.
Acoustic consultant John Styles said a range of public events during the Cup could cause adverse noise effects for CBD hotels, offices and apartments.
The level of crowd noise may be greater than that of the PA systems.
Mr Styles said an effective communication plan was needed to give warning to people of the noise from the opening and closing ceremonies.
COMPROMISE
* 500 delegates will be in town for the Pacific Islands Forum from September 6-9.
* Sound check times have been changed because of the meeting.
* 9am to 5pm on September 8 were the original times.
* Now they will not start until 3.30pm, and will run until 8.30pm.