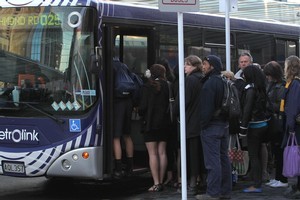 We are travelling from Taupo to Auckland for Cup games at Eden Park in September and October. What are your suggestions for the best and/or simplest way to get to the stadium? We are very happy to use the transport that will be available for the public - where would be the best place to leave our cars, outside of the Auckland CBD?
Brian Halligan, Taupo.
My suggestion would be to drive to Papakura, leave the car at the station carpark there and take the train. Some special event train services will be running along the southern line from Papakura directly to Newmarket, and from there to Kingsland. An alternative is to use normal scheduled services to Britomart and then catch a special event train to Kingsland. Return trains will be running back along the southern line after the match. Travel by train is free when you produce your match ticket.
Could you tell what date the fireworks for the Rugby World Cup are on and what time please?
Owen Bradley, Auckland.
The largest firework display seen in New Zealand is scheduled to light up the downtown waterfront at 8pm on September 9, the date of the Rugby World Cup opening match. Good vantage points for watching the fireworks display include Mt Victoria, the Devonport waterfront, Bastion Pt and the Parnell Rose Gardens.
What else is going on at the waterfront on opening night?
Eugene Sutton, Auckland.
An awful lot, it seems. Here is a quick breakdown, but for more information, visit here.
4pm - Te Herenga Waka - fleet arrival
4.40pm - Dave Dobbyn and band at Queens Wharf
5pm - Mass haka and kaihoe procession - Eastern Viaduct/Quay St
5.55pm - Mayoral welcome on Queens Wharf
6.10pm - The Finn Brothers concert - headline act
7.30pm - Opening ceremony from Eden Park live on waterfront big screens
8pm - Sound and light show - Auckland's biggest and brightest fireworks and light show set to music composed for the occasion by Don McGlashan
8.15pm - Opening match from Eden Park live on the waterfront big screens
10.15pm - Concert by New Zealand music stars, including Dane Rumble, on Queens Wharf
2am - Queens Wharf closes.
I am picking my daughter up from the airport at 6.20pm to attend a Rugby World Cup game at 9pm at Eden Park. Our plan is to drive as far as we can towards Eden Park then park in a side street and walk to the park. We don't mind an hour's walk if necessary. Does this seem feasible? Could you advise the best area to head for?
Jim Doull, Thames.
It is feasible, but be warned, traffic is going to be heavy whichever route you take.
My suggestion is to take SH20 westbound from the airport to Dominion Rd. Turn down Dominion towards the city, and keep going until you have crossed Balmoral Rd. From there, use one of the side streets to park in, and you should have a fairly easy walk to Eden Park.