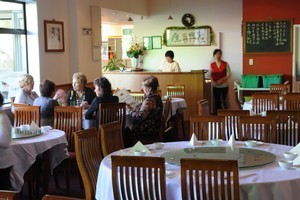 Job opportunities, good schools and restaurants are among the reasons migrants choose Auckland over other cities, a survey has found.
The Department of Labour report Why Auckland? which looks into why and how migrants settle in different parts of the country, is part of a survey involving 6000 migrants who have been here six, 18 and 36 months.
It analyses interviews with 11 women and eight men living in Auckland, who were from China, Britain, India, North America, Philippines, South Africa and the Pacific. They moved here under the skilled migrant category and have been here at least five years since gaining permanent residence.
Vasantha Krishnan, the department's research head, said migrants who chose Auckland specifically as a destination acted either on advice about educational possibilities or to take up a job offer.
She said Auckland's tertiary education sector's "excellent off-shore reputation" was also an attraction for international students.
"University of Auckland is the best university in New Zealand," an international student in the study said. "There are cheaper options, but this is the best one."
Another, who first came on a temporary visa, said: "I lined myself up a job, went home, packed up and came back."
But participants said family life, and cultural and social community networks were important factors in remaining and settling in the city.
"Those who chose to settle in Auckland came initially because they were advised, or discovered, that it had the edge in work or educational opportunities," Ms Krishnan said.
"For migrants from China, issues of access to a vibrant Chinese community were very important."
One Chinese participant, who moved to Auckland from Christchurch, said: "I don't have any friends there, that's why I'm always in Auckland. [Christchurch] is very, very quiet ... it's hard to find some shops and Chinese restaurants. Auckland got lots of Chinese restaurants."
Migrants from China sought to maintain an almost exclusively Chinese social life, the study found.
Of those who came as skilled migrants, all intended to start or raise a family in beneficial circumstances, and a family home and good schooling were of top priority.
"It's all about school zones," one young father said.
The report said that migrants who arrived in Auckland usually came without prior personal knowledge, unlike Wellington where migrants moved there after visiting other cities.
The department will do more urban studies to better understand the strengths of cities and communities.
WHY AUCKLAND?
* "In terms of employment, there's more variety in Auckland than there is in any other centre in New Zealand."
- Skilled migrant
* "Auckland's got lots of Chinese restaurants."
- Chinese migrant
* "Auckland University is the best university in New Zealand."
- International student.