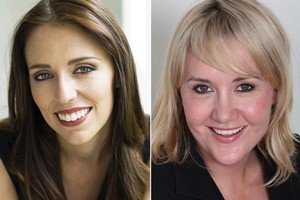 We asked Labour's Jacinda Ardern and National's Nikki Kaye: How do we engage disaffected youth?

---

JACINDA ARDERN
I think Ed Miliband said it best when, during the emergency session of Parliament in the wake of the London riots, he stated: "to seek to explain is not to seek to excuse."
Almost everyone in New Zealand will know someone in the UK who watched their streets succumb to the chaos of the riots (my sister was amongst the many trapped in their homes for hours on end), but we can't let our absolute disdain for what occurred stop us from looking at the bigger question: Why?
What is it that makes a young person decide that they have so little to lose that violence, theft, and a criminal conviction are meaningless to them? It's not an easy question to answer, but I don't believe we are immune to what we have witnessed abroad.
We have an ever increasing number of young people that we are leaving behind. There are currently 58,000 young people not in work, training or education.
A good portion of these won't be on the unemployment benefit; after all, you're not eligible until you are 18. Some will be graduates who can't find work, some will be young people who left school and in a recession are finding the number of low skilled jobs is ever decreasing, and some just won't have a plan. Whatever the reason, the longer they are disengaged, the bigger that issue becomes for all of us.
Let's not jump to the assumption that we just have a troublesome generation here. By and large, our young people want to work and they want to up-skill. In 2008, there were only roughly 200 young people who had been on the unemployment benefit for longer than a year but, as soon as the jobs dried up, this number started to grow. Now it's eight times higher than it was two years ago.
I think it's fair enough that we look to the government for answers; they have it within their power to either sit on the side-line of the economy or to jump in and introduce the kind of stimulus we need to grow jobs. In fact, that was exactly what I expected John Key to outline at the National Party conference. Instead, he decided to talk about the independent youth benefit. There are currently just over 1000 young people on this form of government support. It's designed for vulnerable young people who can no longer be supported by their parents (or have been in foster care) and the threshold is pretty high.
I agree that the small number of young people on the independent youth benefit need support and guidance to ensure they have the skills they need to move into decent work, but how will giving them the equivalent of food stamps achieve that?
We're focusing on the small at the detriment of a much bigger issue.
For me, this issue boils down to one thing: what does hope look like? Does it come in the form of a government telling a young person that in an environment where they can't find work; training places are limited; investment in skills has been slashed; and even night school is gone, that the only answer they have is to reform a benefit that most of them aren't even receiving? Or does it come in the form of a plan for the future?
Our young people need and deserve leadership and a willingness to accept that in order to generate jobs, we are going to have to make some hard calls on their behalf. That means supporting our exporters; incentivising research and development; encouraging investment in the productive economy; focusing on skills and trade training and making sure we're picking up young people at the school gate rather than the WINZ door.
No one is denying the economic environment out there has been tough, but our young people are suffering more than our counterparts: we have one of the highest proportions of youth unemployment in the OECD. When it comes to this government, it seems Ed Miliband's words of wisdom apply to them as well: explaining the economic environment does not excuse inaction.
It's time to offer our young people some hope, Mr Key.
Jacinda Ardern is on Facebook and Twitter @jacindaardern

---

NIKKI KAYE
When I lived in London I was surprised at the number of people and distinctive communities who kept to themselves and were not engaged in society. Probably the day I felt this most was when I was working at Transport for London when the bombs when off on the 7th of September 2007.
I remember some pretty heated discussions with friends and family who were trying to grasp how these young people could grow up in Britain and want to commit these horrific acts. It is clear that for some time the United Kingdom has had some very serious issues where either by choice or circumstance, some groups are completely disengaged with society.
While there are some common threads across countries as to why young people may become disengaged, it is difficult to compare across countries as there are very big differences.
When I worked in social services in London I had the opportunity to work on programmes designed to get more people from welfare into work. One of the things that I learned is that the best programmes are the ones that cater for the diverse needs of people, because everyone's circumstances are different.
For too long our welfare system has been a one size fits all approach rather than providing targeted support for what people need. There have been successful programmes but they have been patchy and it has been too easy for people to get lost in a system that has been more focused on administering benefits than working out how to address people's needs.
It is in the best interests of all New Zealanders to untangle our welfare system to ensure people get targeted assistance for their individual circumstances.
Most people understand that in the biggest recession in a generation there will be jobs lost. We recognise that many young people have been hit hardest by the recession. We also believe that the best way to ensure young people are engaged is for them to be in education, training or work. In the last couple of years we've implemented a range of initiatives to try to achieve this.
Through our economic plan, we're on track to see 170,000 more jobs created in the next four years. We've created a record number of tertiary places to help young people who can't find work to further their education, with over 13,000 more full-time equivalent places than in 2008. We introduced a $55 million Youth Employment Package and the Job Ops programme which gives a $5000 subsidy to businesses that employ low-skilled young people. This has already delivered employment opportunities to over 10,000 young people.
One priority to provide better support is teen beneficiaries. We know that if a 16 or 17-year-old leaves school but doesn't go into work or further education, there is a 90 per cent chance they will be on a benefit by the time they are 18.
We also believe that teenagers receiving benefits are often left to look after themselves.
Over 1600 of the 16 and 17-year-olds on welfare are teen parents, or don't have families who support them. They usually come from disadvantaged backgrounds and receive very little guidance despite their vulnerable circumstances.
We will make sure schools tell the Government when 16 and 17-year-olds leave education. We also intend to fund support providers to mentor every one of these young people, arrange further education and training, and give them any other support they need. Some of these teenagers already receive an adult benefit.
We are going to change how we oversee their benefit payments. For the first time, teenage beneficiaries will receive intensive case management and support. Essential costs like rent and power bills will be paid directly on their behalf, and they will receive payment cards which can be used only for food and groceries - not alcohol or cigarettes. They will also have some spending money to buy discretionary items.
Other changes will require all young beneficiaries to be in education, training, or work. They must also attend programmes on life skills such as budgeting or parenting. To make this possible, we are providing more training places and more support for young people.
There will be 7500 places next year for free education under National's Youth Guarantee, and another 4500 places in Trades Academies within two years. We will cover the cost of childcare for teen parents, and provide more residential teen parenting units to give them 24/7 support.
We know this will cost more in the short term, but our society will be better off in the long term, with fewer disenfranchised and disillusioned young people and more of them engaged in their own communities. These changes are about creating a much more compassionate country where we work with vulnerable people to help them get back on their feet rather than letting them get lost in the system.
Nikki Kaye is on Facebook and Twitter @nikkikaye
Do you have a topic you would like Nikki Kaye and Jacinda Ardern to tackle? Email us.