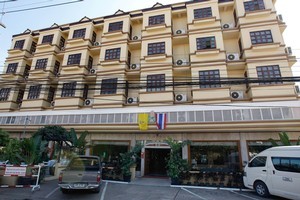 A Kiwi father still has no answers but now has some closure after a six-month investigation into the mystery illness that killed his 23-year-old daughter in Thailand.
Thai authorities yesterday released the fifth and final update into a series of six deaths in Chiang Mai hotels and guesthouses in January and February.
Sarah Carter, 23, became ill with two travelling companions on February 3 after staying at the Downtown Inn in Chiang Mai. Her friends recovered but she died in hospital three days later.
Yesterday's report, released by the Thai Ministry of Public Health, said some but not all of the deaths appeared linked.
The closest it got to an explanation was to say Ms Carter's death "can be explained by exposure to some chemicals such as those found in pesticides".
The report did not identify specific agents involved.
"It's inconclusive," said Ms Carter's father, Richard.
"But to be honest, both my wife and I will be quite pleased that it's over because it has just been bringing up thoughts of the real tragedy.
"Nothing that they do is going to bring her back. It'll be nice to end this particular chapter and we can just get on with dealing with living without our daughter as best we can."
The investigation looked at the six deaths as four different episodes.
On January 9 two women, from the United States and Canada, became sick at a Chiang Mai guesthouse, and one died. The pair showed similar symptoms to Ms Carter and her friends.
The second episode was the death of a 25-year-old French woman at a nearby guesthouse on January 19. Her death was ruled as unrelated.
The third episode involved Ms Carter's group and a Thai woman found dead in the room next to theirs on February 3.
The final episode was the death of an elderly British couple in the same hotel on February 19.
The investigation did not draw direct links between any of the deaths except Ms Carter and the Thai woman next door.
Mr Carter was grateful Thai authorities had made a serious effort in its investigations, though it had not looked into chemical stores at the hotel or pest control companies.
"I guess they're reluctant to come up with something that's likely to incriminate someone," he said.
"People should definitely still be wary [of travelling there]."