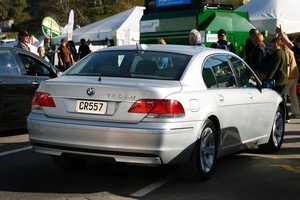 Ordinary New Zealanders have the opportunity to roll like the Prime Minister as 34 government BMW limousines go under the auctioneer's hammer before the end of the year.
But Clive Matthew-Wilson, editor of the Dog and Lemon Guide, warns new owners may suffer sticker shock when they get their new limousine serviced.
The Department of Internal Affairs said yesterday that the Government's old fleet of 34 BMW 730LD limousines would be sold through Turners Auctions over the next few months.
The vehicles would be sold through tenders, brokered deals with unsuccessful bidders and public auctions.
Mr Matthew-Wilson told the Herald the cars, which had a recommended retail price of $170,000 three years ago, would likely fetch $55,000 to $65,000.
While the novelty factor of owning the Prime Minister's car might see initial sales fetch more than that, would-be buyers who waited may be able to pick one up for much less.
"There's nowhere near enough customers in New Zealand to buy those vehicles, and I suspect that the more they sell, the less they'll get."
However, he warned the 3-litre, 6-cylinder diesel cars were expensive to keep on the road. "They [the buyers] can expect to spend thousands for even a basic service. Any major repair will probably cost you about the same as a new Chinese car - they are not recommended for beneficiaries."
The replacement of the vehicles with newer models earlier this year proved an embarrassment to Prime Minister John Key, who said he only learned of the purchase of the new vehicles from a driver. It later emerged details of the fleet replacement were contained in documents Mr Key had received months earlier.
Meanwhile, Mr Matthew-Wilson said the Governor-General's former limousine - a black 2003 Jaguar XJ8 - which is also to be auctioned off soon, was probably even more trouble than the former ministerial BMWs.
"The only thing sadder than an ageing rock star is an ageing Jaguar," said former Jaguar owner Mr Matthew-Wilson. He expected the vehicle would fetch $12,000 to $25,000 at auction.
The Governor-General's Auckland-based limousine - a 2007 Holden Caprice - is also to be auctioned off soon.