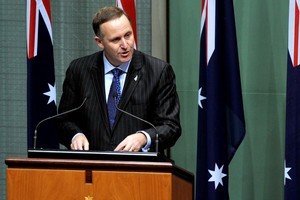 Teenage parents are rejecting a National Party plan they say would treat them like children.
Parents at the country's first support centre serving teenage dads as well as mums, which opened last month in Auckland's Mt Albert Community Centre, feel insulted by the plan to pay only "pocket money" in cash to parents on benefits until they turn 19 - one year later than youths who graduate from the independent youth benefit to adult benefits at 18.
National would pay the rest of their existing benefits direct to landlords or via cards that can be used only for food, clothing and transport.
The young people would also have to be in education or training and attend budgeting classes. Parents under 19 would have to be in education or training a year after having a baby and attend parenting classes.
"You are still treating them like kids if you say you have to go and do it," said Alana Pethybridge, a teenage mum whose daughter Ella Maree is already 2.
Ani Katipa, whose daughter Jada is 2, said many young parents could manage their own lives and did not need outside agencies to take over.
"I think it's rude to take that responsibility away. If it was proven that they can't control their money, then maybe."
Centre manager Niamh Wingate said the Thrive Teen Parent Support Trust, which runs the centre, would have to decide whether it was willing to act as a Government agent in the new plan.
Council of Christian Social Services president Ruby Duncan said community groups would be keen to take on the support role as outlined by Prime Minister John Key, but more wary of taking over young people's incomes.