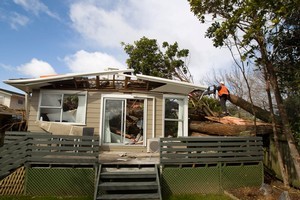 An Auckland mother says she feels "lucky to be alive" after a 15m gumtree came crashing down through the roof of her home during yesterday's wild weather.
Hoa Duong of Pakuranga said she was thankful her two boys were not seriously hurt - although her father-in-law suffered a head injury and cuts on his arm.
"When I heard the loud boom sound, I thought an earthquake had struck," said 29-year-old Ms Hoa, who was preparing breakfast at the time.
"It was horrible to find a tree had brought the entire ceiling down."
She rushed to the living room, where she found her father-in-law, Nghiep Nguyen, 73, who was visiting from Vietnam, injured and bleeding.
Ms Hoa said she and her two sons, aged 6 months and 2 years, received minor injuries.
The family, who migrated from Vietnam 11 years ago, had lived in the Reelick Ave home for just three weeks.
Ms Hoa says she does not feel safe, and will demand that Auckland Council remove another gumtree standing next to the one that fell before the family move back into the house.
Husband Nick Nguyen, 33, who was at work, said he was in disbelief when his wife rang him to say what had happened.
"She said the tree had dropped on our house, but I did not imagine how bad the damage is," said Mr Nguyen, an engineer at Buckley Systems.
"I was totally shocked when I came home and saw it with my own eyes. I cannot believe our bad luck."
An ambulance took his wife, two sons and father to hospital, where the elder Mr Nguyen received stitches for the cuts on his head and arm.
He is booked on a return flight to Vietnam on Saturday, but Mr Nguyen said it was not clear if his father would be fit to travel.
The family is living with friends while the house is being repaired.
Neighbour Jim O'Brien was finishing cleaning up the morning dishes when the tree collapsed.
He had suggested to his wife, Jean, to hold off going back to work until the storm cleared.
A short time later he heard a huge crack.
"I thought it might be the roof coming off and I looked down the back."
Looking out the back window, he saw the gumtree had come down on his neighbours' house.
Mr O'Brien said the young mother arrived at his front door clutching her 6-month-old child.
Mrs O'Brien said the woman's father-in-law also came over. He hada nasty cut to his head and wasdazed.