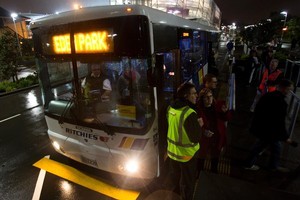 I have family coming up to Auckland for the rugby from October 16-23. Is there any transport from Henderson or New Lynn that they could catch to get to games? Mary Spence, West Auckland.
There certainly is. Regular trains will run from the west stopping at all stations, including Henderson and New Lynn, as far as Morningside. From there it is a 10-minute walk to Eden Park, and a mobility shuttle to the stadium will be available for those who need it. Trains will run every 15 minutes and travel is free for people with pre-purchased tickets. After the match, trains will run every 10-15 minutes from Morningside, stopping at all stations.
We live at Maraetai Beach. Pine Harbour ferries will be putting on special ferries to Downtown for the Rugby World Cup. From there, is catching the train from Britomart our best and most direct way to the rugby? Walking long distances is a problem for me. Myra Lindberg, Maraetai Beach.
That will be your best option. Trains from Britomart will stop at Kingsland station, directly across the road from Eden Park, so no long walks will be required. From three hours before kick-off (and four hours before the opening ceremony) trains will depart Britomart for Kingsland every 5-10 minutes, stopping only at Grafton en route. After the match, trains from Kingsland will take passengers back to Britomart, departing approximately every five minutes and again stopping only at Grafton.
We live next to Botany Town Centre and will be attending two games at North Harbour Stadium. Can you please advise if there is a free bus and if so, where we catch it from? Devan Govender, Botany.
Yes, there will be free buses that will get you to North Harbour Stadium. They will depart Manukau Town Centre at 30-minute intervals from 3 hours before kick-off and will stop at Botany Town Centre and Westfield Pakuranga. The last bus will depart two hours before kick-off. The bus will be free only if you show the driver your match ticket. There will be return services after the game for an hour or until the crowd has cleared.
My son is disabled and sports mad. We have been going to the Blues games all year and have been parking in the disabled parking area on Reimers Ave. We have tickets for the All Blacks v Tonga game. Will we be able to park in the same place? Paul Fels, Auckland.
No. According to the map I have, mobility parking for RWC games will move to the corner of Dominion Rd and Bellwood Ave. The disability taxi drop-off point is nearby. A mobility shuttle will be available from the corner of Dominion and Bellwood to take disabled people to the stadium.