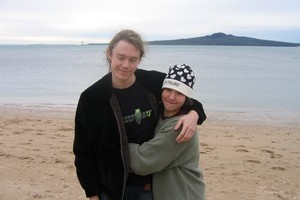 Kiel Morrison sits alone every night as he waits to talk to his "one love'' online, as she logs onto her computer almost 10,000 kilometres away.
Six years ago, Mr Morrison met his beloved Rebecca Brooks in an online gaming community and they have talked almost every day since.
Each day Kiel searches for a job so he can save up enough to bring Miss Brooks over to New Zealand from Iowa, in the United States, so they can be together like a normal couple.
"I just want to earn enough to bring her over here so we can be together.''
Eighteen months ago, the couple met for the first time when Miss Brooks came to stay with Mr Morrison at his parents' home in Hillcrest on Auckland's North Shore.
But neither Mr Morrison nor Miss Brooks were able to find jobs so they could not afford to complete Miss Brooks' residency papers - so after nine months she was forced to return to the United States when her visa expired.
Since then, Mr Morrison graduated from AUT with a Bachelor of Business degree and has since been unsuccessfully searching for a job in marketing.
However, he has become so desperate that he said he would take anything.
"I've been looking for all sorts of work ... at this point I'd do almost anything,'' he said.
The couple need $2000 to pay for Miss Brooks' one-way ticket and for the immediate immigration procedures.
Miss Brooks, 23, said her other half has been sinking into depression the longer he goes without seeing her and without getting work.
"Our hearts break more each day. We're still young, and that time together is being lost quickly,'' Miss Brooks said.
Mr Morrison said he could see their separation was taking its toll on her also.
"I can see her missing me and I can see her getting upset sometimes. It gets hard sometimes,'' he said.
"She's the one. I mean, I wouldn't go through all this trouble if I didn't think she was worth it.''
Miss Brooks said she also would not be putting herself through all this unless she knew Mr Morrison was "the one''.
"People don't stay together over lesser things, and that always surprises us. I think Kiel and I knew we had something special even when we were younger. You don't see it every day, and neither of us wants to do anything with our lives but be with one another.
"We plan to get married, and be together always. We'd do anything for each other. He's my one and only sweetheart.''