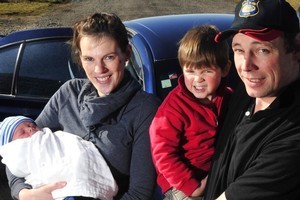 An Otago farmer whose son was born in a car about two minutes from Dunedin Hospital last month might think twice about stopping to have breakfast if his wife goes into labour again.
Craig Nichol, 35, conceded yesterday he "probably shouldn't have had breakfast, and just got going" when wife Sarah, 32, went into labour with their second child on July 30.
She was surprised to find her husband having a cup of coffee and toast after her labour started, Mrs Nichol said, but had already had some false starts so when she felt something happening about 5am they both thought it might be another false alarm.
However, an hour later it was clear it was the real thing and, leaving son Robbie, 3, at home with an aunt, the couple started the hour-long journey to Dunedin.
Heavy fog hampered progress around Clarks Junction, but when Mrs Nichol started getting "a bit more serious" at Outram, Mr Nichol decided "to go as fast as I possibly could".
But it wasn't quite fast enough.
Baby George was born in the back seat of the Falcon at 7.05am, at the corner of Stuart and London Sts in Dunedin - about half a kilometre from the hospital.
"I said, 'Stop, I've had it'," Mrs Nichol said.
"Craig said, 'What?', pulled over, came running around the car and kind of untangled us."
Mrs Nichol hadn't been sure how far advanced her labour was so didn't tell her husband too much because she didn't want to panic him.
"I still thought we'd make it."
The couple's midwife, Mary Ritchie, had given them some instructions on what to do if the baby was born in the car, she said.
Their only concern had been if the baby needed his airways cleared or any other emergency equipment, but he cried immediately, to their relief.
They bundled him up in some towels and drove straight to the emergency department, where Mr Nichol told a nurse his wife had just given birth in the car.
"She said, 'You seem very calm' and I said 'Well, [my wife's] the one who's had the baby'."
Mrs Nichol said while it was a terrible experience at the time, she was relieved it went quickly and she wasn't in labour for hours.
As for the baby's name - George Raymond Stuart Nichol - "They're all family names, but we'd been humming and hah-ing about Stuart.
"We wondered if three was too many names, but when he was born in Stuart St, that sealed it."
- OTAGO DAILY TIMES