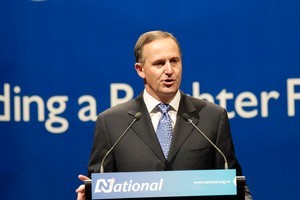 The National Party is targeting 48 per cent of the party vote in November's general election despite opinion polls consistently showing support for the party is hovering above the 50 per cent mark.
The target was revealed by party president Peter Goodfellow in his closing remarks to National's annual conference in Wellington yesterday.
In setting a target below 50 per cent, National is trying to avoid the kind of voter backlash that wrecked Labour's chances of being able to govern alone after the 2002 election.
In the months leading up to that election, the then Helen Clark-led party was registering above 50 per cent in opinion polls.
But Labour's rating subsequently fell as some voters realised an election-night outcome of that magnitude would mean a return to single-party government for the first time since the introduction of MMP nearly a decade earlier.
It is understood National set the 48 per cent target to avoid looking arrogant.
National has also indicated that, should it be in a position to rule alone, it will still strike post-election deals with compatible minor parties and make them part of its governing arrangement.
Such a move would also provide National with some insurance that it would retain those parties' backing as partners in advance of what will be a far more difficult election in 2014 which would have National trying to win a third term in power.
However, the target is also designed to remind National's members and supporters that the party - which got 45 per cent of the party vote in 2008 - may need to get 48 per cent simply to retain power, given the weak poll showings by its small party allies such as Don Brash-led Act and Peter Dunne's United Future.