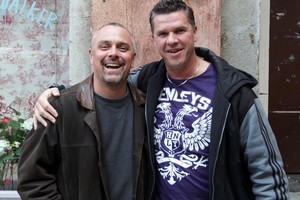 It's one of the most popular pub songs in the country and, even though it was written by three Australians, Living Next Door to Alice could well become the rugby lover's theme tune of the World Cup.
Radio Sport host Miles Davis has teamed up with former Exponents guitarist Brian Jones, singers Rikki Morris and Ross Hollands and musicians Steve Maric and Nick Johnson to rewrite the song, Alice
Their version, 24 Years, will be music to rugby fans' ears.
The song, which Davis wrote in 90 minutes on a flight from Invercargill to Auckland, was created to the tune of Living Next Door to Alice by Australian trio New World.
The 1970s version of the song by Brit band Smokie reached No 7 in the charts here, but went to No 5 in the UK and No 1 in at least six countries.
It is one of the most frequently played songs in Kiwi nightspots, with dancers chanting the key line in the chorus: "Alice, who the f*** is Alice."
Davis chose the song because its main lines relate so well to the All Blacks' World Cup bid - it has been 24 years since New Zealand took home the trophy named after William Webb Ellis.
He admitted he wasn't much of a singer, but he was prepared to back up the musicians.
"When I was young I had a magical voice but then I found drugs, booze and women," Davis said.
The song will be released next weekend and will get a lot of airplay through Radio Sport and its mainstream sister music stations like The Rock.
Music manager Gray Bartlett said the song was a bit too overconfident but suited the tune of Living Next Door to Alice.
Singalong to a familiar tune
Here's a sample of Miles Davis' song, 24 Years.
"Oh I don't know how we got it, it should have been Japan,
I guess they've got their reasons but I just don't give a damn,
Cos for 24 years we've been trying to get our hands on Webb Ellis (Ellis, where the f***'s Webb Ellis)
24 years waiting for the chance
We're thrashing everybody then we go and lose to France,
Now he's coming back home, we'll surely get our hands on Webb Ellis."