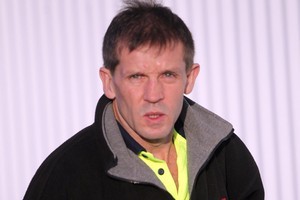 This is Steven Graham. The 48-year-old business-owner from the Auckland suburb of St Heliers who went around sneakily photographing women up their skirts.
But he has repeatedly dodged the Herald on Sunday's photographers.
Until this week.
The electrical company director was this year sentenced to 24 months' intensive supervision for making an intimate visual recording.
When he was arrested, police found he had modified a red sports bag to conceal a camera. Walking down Auckland's Queen St in November, he swung the bag under a Korean tourist's skirt several times.
When police arrested him, their forensic IT experts found a further seven recordings of unidentified women that Graham had tried to erase.
In sentencing, the judge said the Korean woman had been shaken and embarrassed. She said that despite an apology and counselling, Graham still posed a medium risk of reoffending.
It is not his first conviction: in 1995 he was sent to prison for unlawful sexual connection with a girl under the age of 12.
The newspaper sought leave to photograph Graham in court, arguing the public had a right to know what he looked like because of his repeated covert, intimate photography of women under cover of anonymity.
Graham's lawyer resisted photography applications, and the offender changed his appearance and went to great lengths to conceal his face outside the court and hide from the cameras.
But this week, he was photographed while buying supplies at a Bunnings hardware store in South Auckland.
Graham threatened newspaper staff after the shot was taken, and his lawyer suggested legal action would follow publication.
But Dr Kim McGregor, who has worked as a therapist with survivors of sexual abuse for more than 20 years, said the publication of Graham's photograph could be justified.
"We know with recidivist sex offenders the more eyes that are on them, and the more people that know who they are and what they are doing, the safer the community is. They being aware that they are being watched is a form of prevention," she said.
She said it was important Graham completed a one- or two-year treatment programme and was able to rehabilitate.