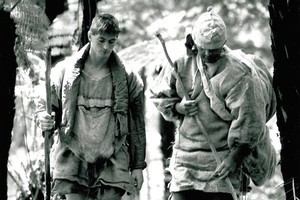 This week the SAS opened its doors for civilians to apply to join its ranks, sidestepping the requirement to serve in the Defence Force beforehand. But, as a Herald team discovered 19 years ago, it's not for the faint-hearted.
It's the bunny-bashing that sticks in their minds. Nearly two decades after reporter Gilbert Wong and photographer John Sefton went deep into the bush to witness gruelling SAS training first hand, the death of a small white rabbit is something neither of them will forget.
With 19 years to soften the memory, recollections of the assignment evoke much laughter and black humour. But what they witnessed at the time was in-your-face shocking.
Wong, by his own admission "not an outdoorsey pig-hunter person", remembers buying a pair of hiking boots ready for the assignment.
"They were an urban person's idea of what hiking boots should be. I think they were suede or something, with purple insets."
As it turned out, the SAS commanders didn't let Wong stray far into the Coromandel bush and allowed him the luxury of a tent and sleeping bag. Wong, now communications manager for the Human Rights Commission, cheerfully recalls fresh bread baked in an oven made from a metal ammunition case and raw kina spread on crackers ... "like a very pungent pate".
But the SAS trainees weren't so pampered. Stripped of their clothes and left with a pile of sacking, they had to make clothing to keep them warm during nights in the open, and learn to live from the bush.
Two days into the assignment, Sefton - now illustrations editor at the Herald - arrived at the camp, fresh from Auckland, to witness trainees learning to pull the heads of chickens.
Next came a lesson in slaughtering a sheep with one, quick clean movement by an SAS leader with the nickname of "Blade."
The trainees were told to put the warm, salty blood in their billycans and drink it. Wong agreed to taste the blood, not something he's had to do since.
"Funnily, the chickens I buy tend to not have any blood on them."
Then came the rabbit incident. Sefton, intent on capturing as many photos as he could, suddenly found himself covered in blood after one of the commanders grasped a rabbit by its hind legs and cracked its skull against a tree.
"They got this little white bunny out of a cage and went 'smack' and killed it. It was all over me. I got the shock of my life."
Sefton still remembers the lesson in glove making after the rabbit pelt was pulled off whole.
The SAS trainees were then let loose with their own chickens and rabbits.
Sefton: "That one day I was there I thought 'I want to get outta here'. It was terrible. It was one of the strangest jobs I've ever done."