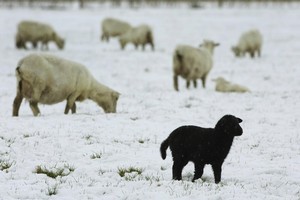 This week on Country99TV I unofficially declared that spring has already arrived across much of New Zealand - but at the same time I made that statement, WeatherWatch.co.nz warned that the next 12 weeks are "high risk" for more snow storms.
Sounds like we want the best of both worlds, but it's a legitimate prediction. The warmer weather that is already creeping back can significantly boost the chances of snow - that's because it can, in fact, be too cold for snow.
The colder the air is, the drier it is. That's why Antarctica is the driest continent on Earth. Because it's very dry there, it rarely snows. So a bitterly cold winter doesn't mean more snow.
Forget about when spring "technically" turns up. The grass is growing faster, flowers are blooming, lambs and calves are being born and our temperatures are again above where they should be for many regions. Spring has already arrived.
But, at the same time, the Southern Ocean is now fired up and it's this chaotic weather - that sees a cold snap one day, a sub-tropical low the next, a week of sunshine and no wind the week after that - that increases our snow risk. A cold southerly mixing with a warm low is a recipe for snow.
And the talk of further snow storms may be terrible news for farmers, but it's not bad news for urbanites who love to build snowmen and get a potential snow day off work or school. With talk of another cold snap tomorrow in the deep south, our readers reacted positively. "Bring it on!! Was so nice to see how many people it [the snow] cheered up a fortnight ago!!" wrote Angela Peters on the WeatherWatch Facebook page.
Meanwhile, it's anti-cyclonic gloom for Auckland and Northland residents that is starting to become tiresome. The "gloom" is basically low cloud trapped underneath a high. So while the rest of us have blue skies, quite often places such as Auckland and Whangarei can be dead calm but overcast all day. With spring now basically here, the windier weather should help reduce the number of gloomy days.