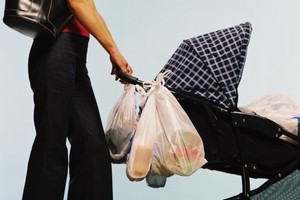 Compulsive shoplifter Angela Pidduck doesn't have any crafty secrets to her shoplifting: she just grabs the jewels and makes a run for it.
The 29-year-old has pleaded guilty to 10 charges of stealing more than $60,000 of jewellery from seven stores: two watches from Stewart Dawson's jeweller at Albany Westfield shopping mall, two gold bracelets from Parnell Time Centre, a two-carat gold ring from The Warehouse at St Lukes shopping centre and, finally, a one-day rampage in which she stole $50,920 of jewellery from three Michael Hill Jeweller stores.
Her crime spree is just the tip of the shoplifting iceberg in New Zealand. Up to $2 million worth of goods is stolen from shops every day. That figure has been growing as times have grown tougher.
But retailers say most of the goods stolen are not food and basic necessities; they are luxury items stolen to order by professional thieves or by middle-class shoplifters who cannot resist the temptation of getting something free.
Pidduck's offending began just 12 days after she was released from Auckland Regional Women's prison last November for similar offences.
Police documents released to the Herald on Sunday revealed she would ask to look at jewellery such as gold rings and watches encased in glass counters. Once they were in her hands she would make a run for it.
Auckland's Marshal Security owner Yousef Alshemanrai said the company caught about 300 shoplifters and credit-card fraudsters each year.
"Normally, school holidays is the high season for us because we are located in the city and we find students from universities trying to get new clothes," Alshemanrai said.
During his 11 years as a security officer he has seen every trick in the thieves' book, from clothing and DVDs stashed in jackets to parents training their children to steal.
Alshemanrai said he often watched thieves loiter around supermarket bins waiting for shoppers to throw away their receipts. They would then dive into the bins, grab the receipt and try to steal similar items, showing the receipt as proof of purchase when approached by security staff. "Some of them are professionals. It's their job."
Retailers Association spokesman Barry Hellberg said tough economic times had pushed people over the edge. "In times of recession there are increased temptations, regrettably by people who know better."
Retailers had increased the use of CCTV cameras and curved mirrors to deter shoplifters, he said.
Pidduck appeared in North Shore District Court for sentencing but was remanded in custody until Tuesday.
Tricks and techniques from thieves:
* A woman tried to steal a necklace from Glassons by hiding it inside a personal body cavity. After being approached by police she excused herself to the bathroom and came back with the necklace.
* Some parents have been training their children to steal items or use them as a distraction. They have also been known to put things in the bottom of pushchairs and simply walk out without paying.
* Marshal Security owner Yousef Alshemanrai says he often watches professional thieves loiter around bins outside supermarkets waiting for shoppers to throw away their receipts. They will get the receipt out of the bin and steal the same items. When approached by staff they will show the receipt as proof of purchase.
Tips and techniques by retailers:
* Glassons designs stores to have doors that are narrow enough to allow staff to keep an eye on people coming and going. They also position their cash registers on the side of the shop so they always have a panoramic view of the store.
* Overland Footwear outlets don't display a pair of matching shoes. Staff only put out right feet and odd sizes.
Most brazen thefts:
* April 2011: Two men allegedly stole $57,000 worth of goods, including clothes, diving gear, sunglasses and chilly bins from a surf shop in Otaki in the early hours of the morning on Anzac Day.
* April 2011: A group of shoplifters in Auckland's Counties Manukau was being paid by a dairy owner to steal from supermarkets and supply him with goods. The dairy owner was selling the items at below retail prices.
* July 2010: Sixteen boys from Melbourne's Xavier College were caught stealing $6000 worth of ski clothing from seven stores in Queenstown during a school trip.
* September 2007: Shortland Street and Coronation Street star Adam Rickitt was arrested for stealing a block of cheese, a bottle of HP sauce and a jar of coffee from an Auckland Pak'nSave - a genuine mistake, he said.
* June 2006: An 85-year-old Christchurch war veteran, Reginald Hugh Donovan, was jailed for shoplifting after racking up 50 shoplifting convictions. He was the oldest person in New Zealand to be sentenced to prison.