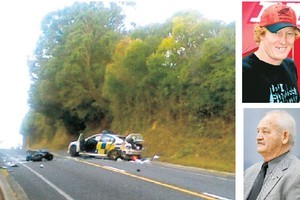 A policeman whose u-turn on the brow of a hill led to the death of a motorcyclist has been fined $250 plus court costs - to the disbelief of the victim's family and friends.
Veteran highway patrol officer Michael John Lenihan was yesterday cleared of dangerous driving causing death, but convicted of a lesser charge of careless driving for making the u-turn to chase a speeding driver.
The motorcyclist, 37-year-old Paul Brown, died when his 998cc Kawasaki Ninja crashed into Lenihan's police car at a speed estimated to have been up to 140km/h on Waerenga Rd near Te Kauwhata on April 18 last year.
Judge Lance Moore told yesterday's defended hearing in Hamilton District Court that Lenihan had clearly made a mistake but Mr Brown would have escaped the collision if he had been travelling at the speed limit.
"If he had been travelling at a bit over 100km/h he might well still have avoided the collision, or at the very worst been involved in a minor one."
He dropped a charge against Lenihan of dangerous driving causing injury to his friend John Cameron, who was in the car as a police observer at the time and suffered whiplash injuries and a bruised sternum.
The decision shocked Mr Brown's family and friends, some of whom wore T-shirts in remembrance of him.
Mr Brown's mother, Jenny, who had lost two sons before Paul's death, would not comment when approached outside the court.
A family friend said: "She has got absolutely nothing to say."
But his close friends Joe Macfarlane and Carl Jackson - the motorist Lenihan clocked driving at more than 150km/h moments before the accident - said they were shattered by the outcome.
Mr Macfarlane said the sentence meant nothing and Lenihan needed to be held accountable.
He said he had lost confidence in the police to "quite a big degree".
"I can't believe that the charge got laid down ... In the end it smacks of a cover-up," he said.
"We know Brownie was no saint ... but justice is justice and if anybody else had have been coming there, whether it was him or whatever, there would have been an accident."
Mr Macfarlane said Mr Brown was at his house before he made his fateful return home on Waerenga Rd.
He said Lenihan should have at least been charged with dangerous driving.
"I could have almost lived with not necessarily causing the death because they said Brownie was speeding but I'm not altogether convinced with the case they put together.
"Nobody in their right mind would have turned around there ... The relevant factor was they virtually proved a high percentage of people couldn't have stopped, therefore it was dangerous driving."
Mr Jackson said he wanted Lenihan, who did not give evidence at the hearing, to stand up and admit he had made a mistake.
"If it was any of us doing a u-turn there, we wouldn't have got away with a $250 fine."
The court had earlier heard from a crash investigator who calculated Mr Brown's speed before the crash at between 114km/h and 142 km/h.
But another said he was more likely to have been driving at between 141km/h and 158km/h.
His body was found 72m from the crash scene lying face down in grass after hitting a tree.
Lenihan, who was supported by family, friends and several police colleagues sitting in the public gallery, joined the Ministry of Transport in 1976.
But last night his future was uncertain, and police spokesman Jon Neilson said he would face an internal employment process.
He did not know if Lenihan would be stood down from work until the inquiry was held.
Mr Neilson said two other policemen were still at work despite facing charges of excess breath alcohol and careless use of a motor vehicle.
He said that while officers might not be stood down, they would generally be on restricted duties not related to their normal work.