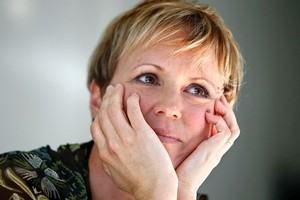 Oh dear. I suspect it is going to prove just about impossible to write about Hilary Barry, the always-nice newsreader and sometimes-angry-as-hell Tweeter, without making her sound impossibly good.
Even those very good Tweets she sent when she was mad as hell about Alasdair Thompson were hardly raging: "Feeling hormonal. Might go home."
She is always reasonable and pleasant and likeable. That's her job. But you couldn't be a completely made up person and so she really is, mostly, all of those things. She knows this makes her sound too nice to be true and knows she says things which are "naff", the use of which is in itself naff - and she knows this too.
I spent rather a lot of our time saying "oh dear", and she spent rather a lot of time pulling faces at me for saying it. The photographer said, sounding a bit surprised, that she has a wonderfully animated face, which is something we never see, for obvious reasons, on the TV news.
Nobody, or at least no journalist, would want to be portrayed as impossibly good.
It's beyond naff, being namby pamby, and quite possibly a bit girly which is the one thing she absolutely is not.
She put on a bit of slap, for her photograph, reasonably competently if a bit half-heartedly. (For her sixteenth birthday her mother, humiliatingly, says her daughter, gave her a book on how to apply make-up.) She had also put on a top she filched from the TV3 wardrobe where the clothes that presenters no longer wear go to die.
This top used to belong to Kate Rodgers, the TV3 film critic, and she knows this because when she stuck her head into the make-up room to ask if she could borrow it, Kate Rodgers told her so. She said, "did you wear it lots of times? Will people know it's your shirt?" They will now, obviously, as I pointed out. But she doesn't really care that people know she hasn't got any clothes of her own that aren't "slob" clothes.
She doesn't seem to care at all about how she looks which is a good thing, in a strange way, for somebody whose face is on the news five nights a week. Because she seems to be without any personal vanity, she just hands her look over to the stylist and the hairdresser, and then she's free not to give one of her hoots about all of that nonsense in the real part of her life.
I think they put her in some pretty odd clobber (those power suits from the 80s look), so I asked what it is she wears is supposed to convey. "Come on. What don't you like?" she said, indulgently. She is supposed to look like "a professional turning up to a Queen St office. So I'm a lawyer or an accountant."
That's a bit strange: That somebody once had the idea that a woman reading the news should look like an accountant. She is supposed to look trustworthy, I suppose. Sometimes she comes out of her dressing room and says, to her colleagues: "Can I sign you up for a mortgage?" So her job is a bit like playing a part.
She likes Twitter because "it is a place where I can be myself". Now that is strange. It suggests that the person who reads the news is not really her, and so what an odd job for a journalist to want.
"It's not necessarily that I'm not being myself; it's that I'm not revealing all of myself. You know, I'm a person who is quite loud and outgoing." She hastened to add that she didn't mean she was "sort of drunk and obnoxious loud! I'm just kind of high on life." Oh dear. "That sounds really naff." Oh dear, and yes.
Being on the TV news, she thinks, is the equivalent, say, of how she would be if she was having dinner with the Governor-General: She is on her best behaviour. I can, though, easily imagine one of her snorts escaping while at dinner with the GG. About once a month, kind people Tweet her the YouTube link to an on-air snort she once did and still regrets.
Much of the earlier part of this conversation had taken place while she was faffing about being a domestic goddess. She does all the cooking, but is not a "flashy" cook; and she doesn't have a cleaner - all I'll say is that she's not OCD about it. She does have a gardener: "Yeah. Mike Barry."
But she is domestic enough a creature to have kindly made cheese scones and she is about to begin making coffee in an amazingly drawn out fashion. She has to heat the milk in the microwave, then boil a jug to warm her "froth-er" pot, and then froth the milk. All so that she can say, "just pretend you're on Ponsonby Rd. Not! This is how we do things on the Shore, you know. We don't buy $4000 coffee machines. We froth our own milk."
Oh, honestly. She must earn a huge amount of money. How much? She's not so nice that she's about to tell me. She said she knew I was going to ask and, "not answering that, Michele". She is paid "substantially less than John Hawkesby was 15 years ago". Let's say it's over $400,000 a year (I'm happy to run a correction) and so she can afford a couple of tops and a poncey coffee machine. She could, but she's just not much interested in stuff.
She spends money on "the mortgage" and what she calls "experiences" with her husband, Mike - who is "possibly the easiest-going guy in the country" - and their boys , Finn, 11, and Ned, 9, none of whom give a hoot about her being on the telly. Mike teaches English at Rosmini College and so obviously earns a lot less than his wife. Some people might mind this, but he doesn't "give a hoot" about that either.
This is a Barry mantra. There are lots of thing she doesn't give "a hoot" about including how she looks like or what she wears; what people think of her; anything "flashy".
Her kids don't have Xboxes and they go on family holidays where you have to do stuff like cave walks and swimming with whales. She would never go on holiday to a resort and just lie about. She goes for a run most days, not she said - giving me one of her pointed looks - so she can look gorgeous and thin, but "for my mental health".
She has a lot of energy so I suppose she has to do something with it given that her job involves sitting down reading things. She also reads the morning news for Radio Live and gets up - cheerfully, of course - at 4.45am to do it.
She has been at TV3 since 1993 which is when she left Radio NZ because she got the pip about a big promotion: To Timaru. She's now 41 and has been reading the news with Mike McRoberts since 2005. Reading things aloud, she says, is what people often think her job is, to which she replies: "Well, you come and try it."
So she is not always scones and smiles and, really, do not call her the Next Mother of the Nation because she hates it, and so would anyone.
I asked whether she was competitive about Simon and Wendy at TVNZ and she said: "I wish the best for them. Not!"
Thank goodness, because I had been a little worried that the interview had deteriorated, almost immediately, into one of those At Home with the Lovely Hilary stories she has to do from time to time for the women's mags.
This was partly my fault for saying that her cheese scones were the best I'd ever had (they were, but I should have kept my mouth shut) and so of course she said she'd give me the recipe and then and there found the recipe book and of course it was a Jo Seagar recipe book - and you don't get much mumsier or lovelier than all of that, now do you?
But things were about to get even more At Home With ... The Jo Seagar book had an inscription for Mother's Day, purporting to have been written by her older boy, Finn, who had just been born.
I had to have it explained to me that Mike had written the message on Finn's behalf, with his left hand, to make it look as though it had been written by a child. This is not the sort of thing one journalist should ever let another journalist see. Then I came across a card which read, in part, "you are the prettiest mummy I have ever seen ..." , also written by Mike, with his left hand.
So, dear oh dear. And I just happened to have, in my notebook, a quote from one Hilary Barry, in response to one of those aforementioned women's magazine stories about how to be nice to men. "Stop nagging. Cherish his wonderful qualities and laugh at any traits you may find a little annoying ..."
She wasn't a bit abashed about the card. "Look, we entertain ourselves." Or about the quote. "Ha, ha. Do you need a bucket? I do think we nag. I have to stop myself."
Of course you go to see her expecting her to be good and nice and she is certainly the second of those two things, except when she's being sarcastic, or using the F word, or giving me the finger (fingers, actually: she used both hands for emphasis.) She also threatened to clip my ears for mocking her for calling her family a "team". This really is appalling, but I suppose if you live in a house with three rugby mad males you might as well give up and join in.
And of course she was head prefect, at St Margaret's in Wellington. She volunteered this in the vain hope of demonstrating that she wasn't really a goody-goody because , in the 7th form, she had started a water fight. This earned a very big "oh dear" from me.
Couldn't she have been smoking dope and pashing boys? "Nobody did that!" To make it worse, she told me that when the 7th form dean asked who was responsible, she immediately owned up. Even that's not the really pathetic part.
The really pathetic part is that the dean refused to believe her. And that she told the story. I said I bet she liked doing jigsaw puzzles too and she said: 'Oh, I do quite like jigsaw puzzles!"
I was tempted to say, "and I suppose you do them with the 'team'," but thought better of it. Despite her goody-goody image, I have a feeling she might just be capable of giving the odd swift clip about the ears.