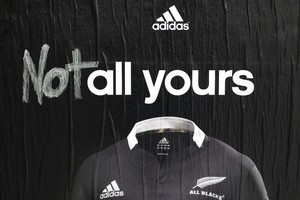 Some adidas staff have had the company's branding removed from their cars after being yelled at and abused over the All Blacks jersey pricing row.
The abuse comes after a furore over the price of All Black jerseys, with the company refusing to bring down the suggested retail price despite it being cheaper to buy online and in other markets.
An adidas spokeswoman told NZPA that the company's branding had been removed from six of its cars - out of a fleet of about 20 - after staff members were subjected to abuse.
"Some members of staff driving to work have been at the end of verbal abuse from other people at traffic.
"People are winding down their windows at the lights, yelling and swearing and making hand gestures,'' she said.
All six cars which had branding removed were from Auckland but staff were being abused in other regions, she said.
The company was fully supportive of staff who wanted to remove branding, she said.
Yesterday it lifted a block on an overseas website selling the jersey to people in New Zealand.
It had earlier canned a glitzy "black is beautiful'' party to celebrate the All Blacks.
Its New Zealand manager David Huggett has apologised to fans for the distraction the furore over the price of the jerseys had caused but managing director for the Pacific Greg Kerr said the price would not change.
He said the company had no control over the suggested retail price and pricing had not changed for three years.
Rebel Sport owner Rod Duke has criticised adidas pricing and began the move to lower jersey prices.
His firm dropped the price of the World Cup replica jersey by $50 to $170 and the standard All Blacks replica jersey by $30 to $149.50, although prices are still cheaper online.
Sales of the replica jerseys have soared since the Rebel price cut which was matched by other retailers including Stirling Sports and Champions of the World.
Meanwhile anti-capitalist group Socialist Aotearoa has called on people to join a protest over the price of jerseys and the conditions wages paid to overseas workers who manufacture the jerseys.
Protesters were asked to wear all black clothing for the protest outside Eden Park's front gate tomorrow at 1pm.
"We're calling on adidas to immediately raise the wages of all its garment workers in Asia to industry standards, to drop the price of the rugby jerseys to an affordable level and to apologise to New Zealand for its arrogance,'' Socialist Aotearoa spokesman Joe Carolan said.
- NZPA