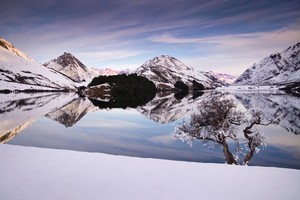 A massive polar blast is set to bring snow on Sunday as far north as the Coromandel Peninsula.
MetService has issued a special weather advisory warning of a cold front likely to arrive over the south of the South Island from Saturday night.
The advisory predicts temperatures will fall sharply "bringing significant snow to sea level from southern Fiordland to the Otago Peninsula".
WeatherWatch.co.nz forecasters are warning of widespread travel problems and snow again falling in places that do not normally see it, as on the last weekend in July.
"This snow storm is really the perfect storm," head weather analyst Philip Duncan said.
Snow was predicted to low levels around Wellington and across Hutt Valley, and could fall to low levels in Hawke's Bay, Wairarapa, Manawatu and Taranaki.
Mr Duncan said the east of country is likely to get hit harder than the deep south.
"People don't realise, but the North Island is a lot further east than the South Island is," he said.
"The most severe part of this system is going to be just to the east of east coast of the South Island. So that puts the lower North Island at quite a high risk of severe gale-force southerlies, brutal wind chills and of course snow to very low levels.
"We think snow flurries to very low levels are possible as far north as Hawke's Bay.
"Southland and Otago are really on the edge of this cold blast. Being further south with this system doesn't necessarily mean you are more exposed to snow. In fact Southland and parts of Otago are going to be more protected by the same high air pressure system that is helping drive in this southerly."
Mr Duncan said Canterbury and the east coast of Marlborough, on the other hand, are more exposed.
"Overall, all of Canterbury, places like Timaru and Ashburton, which missed out on snow in the last snow storm, this one there is a much higher chance more parts of Canterbury will see it.
Snow is expected on the Coromandel and Kaimai ranges "probably from late Monday going into Tuesday".
"And we haven't ruled out the chance of snow on the Waitakeres and Hunua ranges again, but we're not really focused on that at his stage."
Snow could cause travel issues for motorists from Southland to Otago, Canterbury to Marlborough, Wellington to Wairarapa and Hawke's Bay to Central Plateau.
It may even be an issue on highways as far north as the Gisborne region, Mr Duncan said.
Snow on the North Island ranges was predicted to be especially heavy, with snow showers for the Desert Road on the central plateau from Sunday night until Wednesday.
Farmers. who are in the middle of lambing season, are urged to move livestock with the heaviest snow predicted in southern and eastern regions of both islands, from Southland to East Cape.
Severe southerly gales will add to the misery, with wind chills well below zero predicted.
Emergency Management Southland are advising farmers to monitor weather forecasts and to be prepared to shelter ahead of heavy snow forecast for the region this weekend.
Families should also check their essential supplies in case road closures halt deliveries of grocery items.
Drivers in Christchurch are advised to take particular care, as snow may cover cracks and pot holes on earthquake-damaged roads.
- Herald Online, NZPA