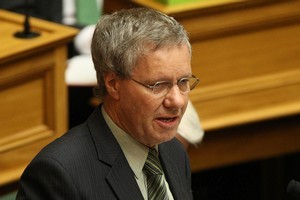 The Government has been called on to halt the deportation of 32 Indonesian seafarers who were reportedly abused while on board the Oyang 75.
The men, who walked off the Korean-flagged vessel after claims they were subjected to physical and sexual abuse and inadequate pay, could be deported from tomorrow after previously receiving notices from Immigration New Zealand that their visas are no longer valid.
After the reports of abuse on the ship, the Government last month announced a joint ministerial inquiry into the conditions on foreign fishing vessels, led by Fisheries Minister Phil Heatley and Labour Minister Kate Wilkinson.
Yesterday, Green Party MP Keith Locke said any attempt to deport the seafarers should be stopped, to ensure they could participate in the inquiry.
"Deporting the men now would be unjust," he said. "The crew are also prime witnesses for the ministers' inquiry, and they shouldn't be bundled out of the country so quickly."
Ms Wilkinson told reporters she was not aware of any deportation order in place.
"The department is working very closely with the crews to try and get a resolution of the issues, and, really, it's not up to me to intervene in that."
Mr Locke's call followed yesterday's release of an Auckland University report into working conditions for international crews on foreign charter vessels in New Zealand.
Researchers interviewing the survivors of the Korean-flagged Oyang 70, which capsized and sank 800km southeast of Dunedin last year, killing six crew, found a disturbing degree of physical and sexual abuse and regular breaches of labour rights.
Sajo Oyang, the Korean company at the centre of the allegations, has denied the claims of widespread abuse.
In a statement yesterday, the company said it had not had the opportunity to give evidence, and accused the university researchers of being partial towards campaigns against fishing by foreigners.
Government policy states that workers on foreign charter vessels should receive the same terms and conditions as New Zealand workers, but the mostly Indonesian crew were left with annual incomes of between $6700 and $11,600, the report said.
In two years' service, the crew members were not given a day off, worked an average of 16 hours a day, and were forced to sign false timesheets.
One crewman described the accommodation as "a floating freezer ... absolutely appalling conditions. Like a slum."
- NZPA