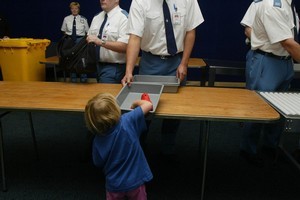 Passengers have missed flights and a major airline has complained to Auckland Airport after long queues at its domestic terminal security screening.
The airport has announced urgent work to expand the security screening area at the domestic terminal in time for the Rugby World Cup.
It comes after Air New Zealand and a travel management company wrote to the airport to complain about processing times that in some instances took longer than 30 minutes.
An Air NZ spokeswoman said the airline had asked the airport to improve its security screening after becoming concerned about wait times during peak travel times.
A spokesman for the airport said wait times during peak hours had intensified recently, which had prompted the urgent work.
That would enlarge the screening area by taking over adjacent retail space to fit more screening machines, and would be completed within weeks.
Grant Bevin, managing director of Business World Travel, said his company was forced to warn clients about the "unacceptable" queues at the terminal during early mornings.
Mr Bevin said he queued for about 30 minutes when he flew two weeks ago, and had several clients who missed flights because of similar wait times.
"You just notice they've been building up and building up and building up ... I've spoken to other business travel agents about it and they have experienced exactly the same thing."
He said there had been "huge frustration" among those in the queue.
"All they ever do is current-proof that building, they never future-proof it. And they do need to get a strategic plan for a whole new domestic terminal at some point."
The Herald observed wait times of no longer than 10 minutes at the security screening area between 6.30am and 7am yesterday.
Extra staff have been assigned during the peak hours of 6.30am-9.00am and 4pm-6.30pm while the work is completed.
Large signs titled "help is on the way" had been placed, which apologised for the longer wait times passengers may experience.
Judy Nicholl, the airport's general manager aeronautical operations, said the work was only a stop-gap measure and the airport was "working towards a long-term solution with our airline customers".