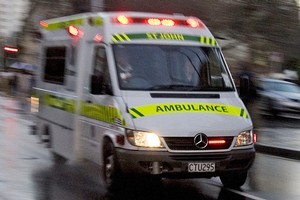 The condition of the young Northland boy who is extremely sick in Starship children's hospital with meningococcal disease has shown no improvement.
"He's still critical," a hospital spokesman said yesterday.
The one-year-old was flown to Starship in Auckland on Tuesday morning, after his parents rushed him to Whangarei Hospital on Monday night.
Health authorities say his case is not connected to the meningococcal disease deaths of a young Manawatu girl in Rotorua Hospital at the weekend and Fulton Hogan chief executive Bill Perry in Christchurch Hospital.
Following Mr Perry's death, three people were taken to hospital infected with the C-strain of the bacteria.
Northland District Health Board public health staff have traced more than 20 family members and others who had been in contact with the boy who is now in Starship.
They have been offered preventative treatment because of the risk that they too could come down with the potentially fatal infection which can cause blood poisoning, organ failure and meningitis, the inflammation of the membranes covering the brain and spinal cord.
Medical officer of health Dr Clair Mills said around 12 had accepted the antibiotic treatment.
The greatest risk was for close contacts in the few days after being exposed to someone who had the disease.
"We're particularly concerned about other young children who might be vulnerable."
She said a significant number of people, particularly during the teenage years, carried the bacteria in their nose and throat without becoming sick themselves.
"We are trying to reduce [that], so they are less likely, without the bug on board, to develop it themselves."
Dr Mills said the toddler had become very sick, very fast.
"It was a very acute onset. He had been well over the weekend. He started to get sick on Monday morning. By early Monday evening they were very worried about him.
"He was in a very serious condition and flown down to Starship during the night."
His illness was laboratory confirmed as meningococcal disease, but it would be several days yet before the Institute of Environmental Science and Research tests could tell whether it was the New Zealand B strain that caused an epidemic from 1991 to 2007.
The vaccine against that strain, considered by the Health Ministry to have helped end the epidemic, is no longer available because it was less effective than a number of other vaccines.
Dr Mills said the boy was the second case of meningococcal disease in Northland this year. The first had been a probable case in a young man who was not particularly unwell and who had responded to treatment.
Following the epidemic, the region had typically had five to eight cases of meningococcal disease each year.