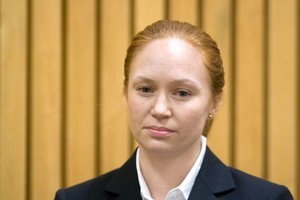 Theft charges against a woman accused of skipping the country after a massive bank error have been dropped, but police say new indictments laid today include an international element and remain very serious.
Kara May-Jo Hurring was facing 32 charges over offences alleged to have been committed between April 28 and May 5, 2009.
Police said a $10 million overdraft facility was mistakenly loaded into her partner Hui "Leo" Gao's account in April 2009 after he asked for a $100,000 overdraft to prop up his ailing service station business on the corner of Old Taupo and Otonga Rds.
A total of $6.78 million was allegedly transferred into other accounts before he and Hurring left for Hong Kong, police said.
The error was discovered on May 5.
Hurring had been charged, along with Gao of stealing $6.78 million between April 24 and May 4, 2009.
Those charges were dropped in the Rotorua District Court today. The new indictments include 26 counts of theft to the value of approximately $11,000, two counts of attempting to use a document, and two charges of international money laundering to the value of more than HK$1.5 million relating to activities in Macau.
Judge McGuire described the new charges as a pale echo of what Hurring was previously facing, but the officer in charge of the original investigation, Detective Senior Sergeant Mark Loper, said they remain "very serious".
"The money laundering charges are significant, to the point that given their international nature, approval was required from the Solicitor General in order to lay them.
"There is still a lot of work going on behind the scenes, but for obvious reasons, we are not in a position to be able to discuss that. Having said that, we are still actively seeking Mr Gao in relation to the theft of $6,782,000.
"The investigation has been - and will continue to be - very complex, due to the fact that it is a trans-national investigation, but we remain committed to ensuring that those responsible are held to account for their actions."
Hurring has been excused from the next hearing hearing on August 24.
- with Newstalk ZB